When night arrives in Toledo, there is little left to do, only nightly guided tours in Toledo: monuments and museums are closed, the streets begin to empty of the daytime traffic of thousands of tourists and another magical, secret and hidden city is shown to the eyes of those who are able to discover the night routes and different guided tours that can be booked in Toledo.
Walking through the streets of Toledo's old town at night, accompanied by a good guide who tells us about its legends, mysteries and secrets, is an activity that in recent years has attracted thousands of people.
Every day, several guided tour companies accompany groups of tourists seeking to discover the "other Toledo".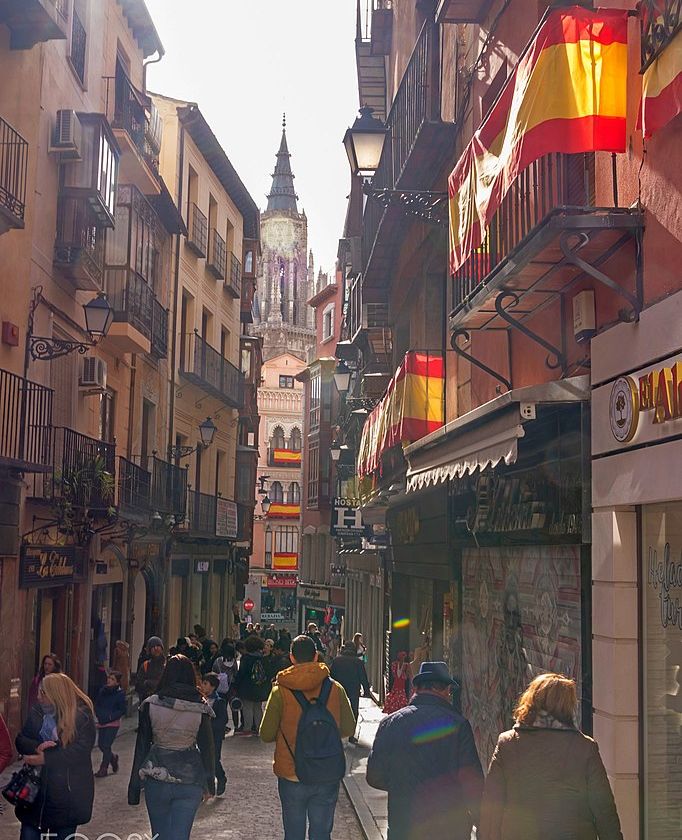 Shed of Santa Clara, in Toledo
Guided night tours in Toledo
Away from the noise and traffic of thousands of tourists of all nationalities who during the day walk the main streets and squares or access the most representative monuments, a magical Toledo, sinister, subterranean, opens its doors when the sun goes down.
Hundreds of people cross certain corners of the city through which during the day they do not usually pass (not because anything bad happens, but because Toledo is a labyrinth that there is no paper map that resists or GPS that locates correctly), guided by expert narrators, in some cases investigators of the subjects they have, with many articles and books behind their backs narrating that other Toledo.
Here are three night tours that will show you that other Toledo that so many have sought to discover in recent years and that before was not told by anyone:In this network of Toledan alleys, between Hell and the Devil is where the Magic Toledo route transits…
It is the night route par excellence, the most famous, the one that everyone does for the first time when they want to discover the secrets of night Toledo.
A banner of the night guided tours in the Imperial City. This nocturnal route tells anecdotes, curiosities, old legends of the city related to that part of history that many forget in the most academic books.
Stories inspired by the secret history of the inhabitants who for centuries have walked the old streets of Toledo.
The tour passes through corners where you could easily see a 16th century knight, a group of Inquisitors or a Templar returning from a distant battle.
Toledo Mágico is a different route, which avoids the most monumental explanations given in the guided tours that take place during the day and which you should not miss on your visit to Toledo. In "Toledospain.click Guides", access to dungeons is also usually included.
Night route Toledo Siniestro: houses and enchanted places, two groups after the theatrical representation. Time does not prevent dozens of people from attending these night guided tours.
Very few cities lend themselves to telling as many stories related to ghosts, apparitions and enchanted places as Toledo. This nocturnal guided tour is also different, unique.
In this web narrates the experiences they have accumulated over the years. They are not invented stories; they are texts recovered from old press clippings, oral traditions of the inhabitants of the city or events that have been told by the tourists who have visited Toledo.
Paranormal events in hotels and old palaces; objects with different properties; spaces in which reality is transformed.
Do you dare to travel with Toledospain.click Guides the most sinister and enchanted enclaves of the city of Toledo?
Underground Toledo
The guided tour that discovers you up to 7 subways under the city, also at night. With Toledospain.click Guides you will be able to discover up to seven spaces recovered by archaeologists, of great historical value (with other companies you will only be able to visit two or four): the Jewish House, the Arab baths of Caballel and Cenizal, another subterranean in the Jewish quarter, the remains of the Roman Baths… Spaces preserved under the present Toledo.
He who does not know the subways of Toledo does not really know the city. Under the walls and doors of old Toledo, preserved as treasures, are hidden hundreds of basements, caves, galleries…
An unusual set of underworld stays that very few get to know if not by the hand of the tourist guides of Toledospain.click Guides. Don't take long to book, it's always full.
Toledo Underground Route: 7 Underground
It is not uncommon to discover, after a long day of sightseeing in Toledo, taking a Free Tour of the city or walking aimlessly into a museum, or several monuments (there are also free access) that we meet at 18:30 hours when everything has practically closed… We have to return to the Hotel, dine at a restaurant, or make a guided tour at night. It is the main night attraction in Toledo at the moment.
You will also be interested in: Guía para sobrevivir en Toledo, by Bienvenido Maquedano
Pozo de El Salvador, in Toledo, one of the subways visited in "Toledo subterráneo", with Toledospain.click Guides.
In short, these are three examples of night tours in Toledo that you should not miss in the City of the Three Cultures, although depending on the time of year in which you visit Toledo, you can attend special night tours, for example Halloween or the Night of San Juan.