In recent years a new way of doing tourism has imposed in many cities around the world: guided tours made by tour guides (sometimes students or experts in history and tourism) who offer in exchange for tips tell the basics of a city to the tourist: are the Free Tour or "Free guided tours".
In Toledo, it is also possible to do this type of tourist routes. And we'll tell you how.
What is a "Free Tour" ?
If you do not know this new way of attending a guided tour, you should know that it is a guided tour, of varying duration (usually done in an hour and a half or a little longer), an outdoor guided tour (not usually access to monuments or museums), which tells the essentials of a city or a particular area of a city.
In recent years I have attended "Free Tours" in many cities around the world and have a common denominator: they are pleasant, in some cases funny and tell the essence of the history of a city.
The main characteristic that differentiates them from other guided tours is that it does not have a fixed price : you value the activity at the end of it, giving a "tip" or help to the person who has made the visit.
In addition, during the route it is very possible that they will try to "sell" you some other route that they have in the afternoon or night, or in which museums and monuments are visited.
You should know that many tourism professionals, especially tour guides, consider this type of tours as a way of devaluing a profession, that of tour guide, but the growth of them has been exponential since they began to be done in some of the main cities of the world.
Nowadays they can be found in the streets and squares of almost all the main cities.
The tours of Sandemans (although not present in Toledo) are some of the most famous in many cities.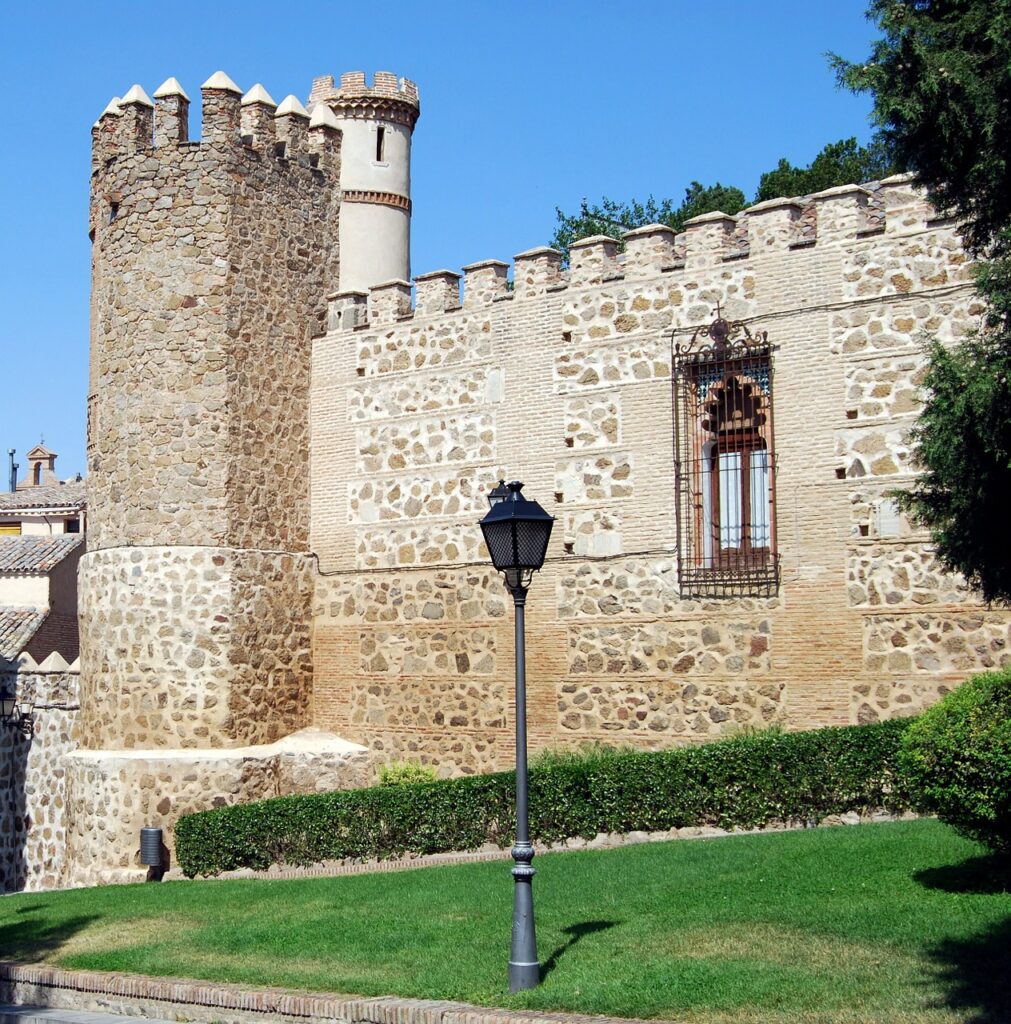 Although it is a type of tours frowned upon among the tourist guide community, many of them have been forced to make them before the unstoppable advance, as has happened in many other camps today.
In the Plaza de Zocodover the allmost Free Tours begin.
They are usually differentiated from other guided tours by having the starting point in the main squares or more public places in the cities. In Toledo they are usually found in the Plaza de Zocodover, under the typical umbrellas that identify this type of companies that offer guided tours.
Free tour in Toledo with Toledospain.click Guides. Patio that is usually visited in the Free Tour of Routes of Toledo in exclusive.
Where do I book a Free Tour in Toledo?
Although there are at least three or four companies that offer Free Walking Tours, or "free" tours in Toledo, we recommend booking with "Toledospain.click Guides". The free guided tour starts at the Plaza de Zocodover, they have different times and dates that you can check and you can also book here: book a Free Tour in Toledo.
It is absolutely necessary to book because Toledo is a city with a large influx of people and all tours are usually filled several days before being scheduled. Therefore, avoid problems and book in advance – it's also free!.
You will also be interested in: "Mercado Cervantino" from 15 to 17 April in ToledoFree Tour Toledo – Toledospain.click Guides
What do you visit on a Free Tour in Toledo?
The main feature of the free tours in Toledo is that there is no access to large monuments or museums. They are usually an outdoor guided tour, which narrates the essential of the city's history.
In the case of the Free Tour of Routes of Toledo, the free guided tours are led by experienced tourist guides, duly accredited, being the same as the famous night routes that so many thousands of people attend in the city, and that have appeared in numerous national press media (TVE, Cuatro, La Sexta, see in this link), in travelers' blogs or in many traditional press media.
These guided tours include the famous monumental routes in which you can visit the Cathedral or the monuments of the Tourist Bracelet or the well-known night routes of Toledo called "Magic Toledo", "Toledo Sinister: houses and enchanted places", "Templars and legends of mystery", etc. among many other monuments.
How much does this type of "Free Tours" usually cost?
As mentioned above, this type of guided tour depends on the price that each tourist considers appropriate to offer at the end of the tour. Usually, at the end of the visit, the guide offers the possibility to value with a tip the accomplishment of the guided visit.
How much do attendees usually tip in Toledo free tours? Well, it depends on the possibilities of each one but above all on what you liked the work of the guide.
Keep in mind that the people who offer these "Free Tours" make a living with them. For their own experience in many free tours around the world, most people offer an average tip of between 6 and 12 euros per person who has attended the tour.
In some cases we even liked the tour so much that we left 20 euros because the guide tried to make the guided tour especially good.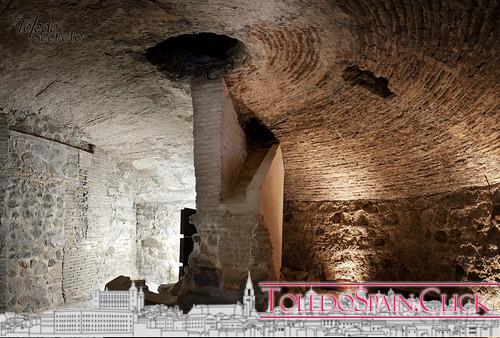 It is worth recognizing the good work of a guide, not in vain has spent about two hours telling us about his city… And behind all this there will be many years of training, continued study, passion for the city (and that these are real professionals who stop doing other guided tours to tell the city as demanded by the market today).
Naturally this amount is an orientation, you are free to value the tour as you see fit, although… Don't have the bad education to leave without leaving a tip, it's not well seen in Toledo or any other city in the world!
Tourist guide starting a Free Tour in the Plaza de Zocodover with Toledospain.click Guides
Free Tours in Toledo are usually held in the morning and typical corners are visited where the history, anecdotes and curiosities of the city are told.
What are you waiting for?, Looking for another type of guided tour in Toledo?
Book now your "Free Tour", your "free" guided tour in Toledo by clicking here.
How to get to Toledo from Madrid: By AVE or by bus.