On the night of June 23rd the "night of San Juan" is celebrated and in many parts of the world bonfires illuminate the shortest night of the year. In Toledo, we are not far behind and have prepared a curious guided tour to celebrate this special night.
As is known, the origin of this celebration is lost in the night of time, in pagan rites, and is inspired by the arrival of the summer solstice in the northern hemisphere.
The idea is to pay homage to the sun, which on that day has a special protagonism: the day is longer and therefore, the power of darkness has a shorter reign.
Toledo Cathedral, at night, from Santa Isabel Street
On this night, numerous legends affirm that it is a period in which the invisible doors of the "other side" are opened and access is allowed to caves, castles and enchanted palaces and among many other beings go for a walk in the moonlight mysterious female beings…
In short, the brief night is charged with a supernatural breath that permeates every magical place on the planet and is the right time to tell all kinds of legends, tales, anecdotes and curiosities San Juan that we know.
In Toledo we could not be less and in Toledo Spain we have organized on June 22nd and 23rd a very special nocturnal guided tour, dedicated to all these spells, enchantments and mysteries that are inspired in our magical city. We called for the route "El Aquelarre de las Brujas de Toledo", on Friday 22 June 2018 at 9 p.m. and Saturday 23 at 10 p.m., in a route full of mysterious and curious narrations, which also includes the theatrical representation of a aquelarre by the Witches in a mysterious part of the city.
Click here to book the guided tour "El Aquelarre de las Brujas de Toledo" on the night of San Juan.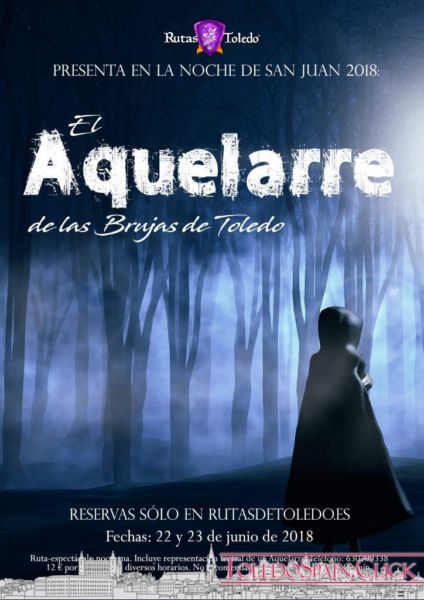 The Aquelarre of the Witches of ToledoSecurity that also interests you: Toledan Nights 2017, 21 and 22 April: music, art, gastronomy, theatre…