If you are looking for the information Corpus Christi 2023 in Toledo, click here.
Discover all the activities of the biggest week in Toledo. The Semana Grande of Corpus Christi in Toledo, Fiestas of International Tourist Interest, is close by. On May 31, 2018, Thursday, the traditional procession of the "Corpus Christi "takes place. An exceptional occasion to visit the most "decorated" Toledo and to enjoy the numerous festive activities prepared. Updated May 24, 2018 with information on access by escalators and public transport (see news at the bottom of this page)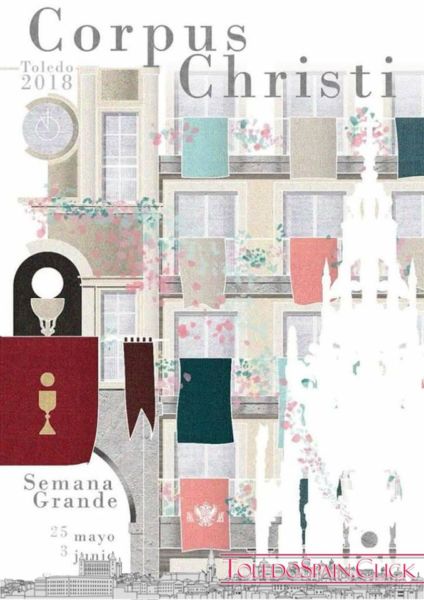 Poster Corpus Christi 2018 Toledo. Author: Natalia Martínez
Corpus Christi 2018 activities program in Toledo
FULL PROGRAMME (updated 18/05/18)
Click here to download the full programme in PDF (Toledo City Council)
WEDNESDAY, MAY 30
10:30 h.: FLORAL OFFERING of the CITY, presided by Mr. Archbishop.
Place: Puerta de los Reyes de la Catedral Primada (Gate of the Kings of the Primate Cathedral). With the participation of the schools of the city.
19:30 h.: ANNOUNCER HORSE AND PARADE OF GIANTONS, accompanied by
famous "Tarasca" and "Unión Musical Benquerencia". Departure: Plaza del Ayuntamiento.
Itinerary: The Processional Career.
22:00 h.: INAUGURATION OF THE PROCESSIONAL CAREER, by the Municipal Corporation
preceded by the Pertiguero. With the participation of the Band "Ciudad de Toledo", Band of
Young Music "Diego Ortiz" and the Folklore Federation "Grupo Tradiciones de Yuncler". Departure: Town Hall Square. Itinerary: El de la Carrera Procesional
THURSDAY, 31 MAY
08:00 h.: Royal Bomb Fire.
09:00 h.: Parade of Gigantones and the famous "Tarasca", accompanied by the Young Band "Diego Ortiz". Departure: Plaza del Ayuntamiento Itinerary: El de la Carrera Procesional
Informatión from Toledospain.click
10:00 h.: SANTA MISA IN THE SOLEMNITY OF CORPUS CHRISTI IN HISPANO-MOZÁRABE RITO, presided over by His Excellency and Reverend Monsignor D. BRAULIO RODRÍGUEZ PLAZA, Archbishop of Toledo, Primate of Spain, Superior in charge of the Hispano-Mozarabic Rite.
11:00 h.: SOLEMNE PROCESSION of the Most Holy Corpus Christi in the Custody of Arfe.
Departure: S.I. Catedral Primada, Puerta Llana.
The Custody of Arfe, passing through Zocodover in 2017. Photo: Valle Martín.
PROCESSIONAL RIDING: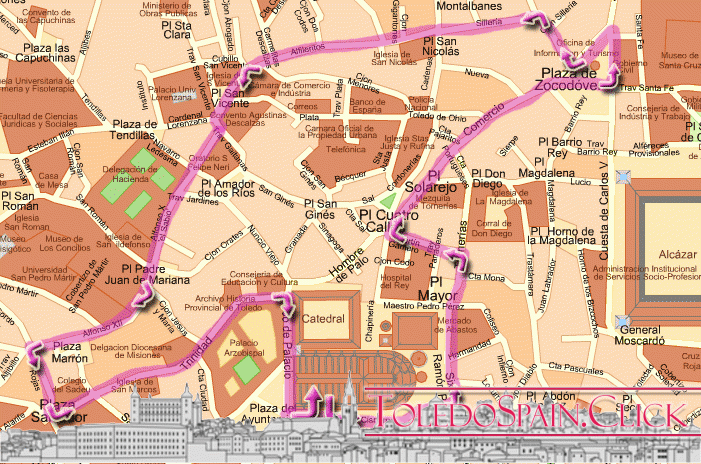 Corpus processional route in Toledo (Source: Toledo City Council)
Do you want to do a very special route in Toledo? Click here.
CONCERTS Corpus Christi 2018
In the absence of confirming all the information, these are the concerts planned for the Semana Grande in Toledo Corpus:
May 26, 22 hours. Máxima Corpus with Germán Pascual, Javi Sánchez, Jose M Duro, Myriam Rodilla, Jesús Taltavull, Jose AM, Ramsés López, Arturo Grao, Albert Neve, Abel Ramos, Nils Van Zandt, Luis López and DJ Nano.
May 27, 20:00 hours. Pablo López. El Greco Conference Centre.
May 30th, 10:30 p.m. Hall Effect. (Los40pop Toledo)
May 31, 10:00 p.m. Rozalén (Free) Paseo de la Vega
June 1, 10:30 p.m. Antonio José. (Dial Corpus) Paseo de la Vega.
2 June, Joan Manuel Serrat, Plaza de Toros. 18-20 euros entrance fee.
More information about the Corpus Christi 2018 concerts in Toledo here.
You have to stay in Toledo
Corpus is most enjoyed the night before Corpus. Culturel activities, concerts, parades… If you sleep in Toledo you will discover another Corpus. And we'll make it easy for you with this search engine for accommodation offers. Book in advance!
Booking.com
Toledo Corpus awnings
Toledo "gets long" to receive the Corpus Christi feast. A full programme of events has been organised to complete the procession that this year parades through the streets, under awnings and with the aroma of thyme and incense. Next May 31, the city will once again celebrate Corpus Christi, its largest festival, only on Thursdays, as was the tradition. Several years ago the "additional" Sunday procession was eliminated.
Assembly of the Corpus awnings in Toledo 2017. Photo: Alberto López Miguel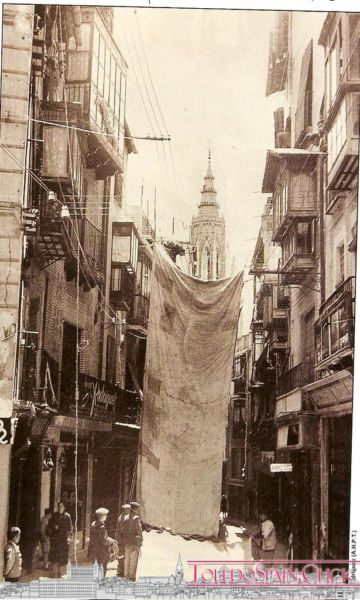 Placement of the Corpus awnings at the beginning of the 20th century (Photograph Rodríguez). Rodriguez background. Provincial Historical Archive. Junta de Comunidades de Castilla-La Mancha. Source: Blog Toledo Forgotten
As every year, several festive activities will be programmed for these dates:
Music concerts.
Religious activities.
Activities in the processional route and old town.
If you want to visit a Toledo perfumed, festive, decorated, with thousands of people crowding its streets, restaurants and hotels, visit the city these days.
Tradition has it that once installed "Corpus awnings have to get wet". That is why it is very common for a storm to leave the awnings that are installed to cover the processional route well wet (and with large bags of water):
What happens when Corpus awnings get wet? (Photo 17/05/13)
Visit the courtyards of Corpus Christi
Patio of Toledo.
A very pleasant activity these days is to access the numerous patios in Toledo which, on the occasion of this festivity and the organised competition, are decorated to receive visitors to the city. During the days of Corpus Christi, different activities can be carried out in these cozy corners scattered throughout the centre of Toledo.
Information about activities, plans, schedules and dates is in this other article: Patios of Corpus Christi 2018, how to visit and when.
2018 VISIT HOURS CORPUS PATIOS:
General opening hours for courtyard visits from 28 May to 2 June 2018:
Monday to Friday, from 18:00 to 22:00 h.
Saturday, 12:00 to 14:00 and 18:00 to 22:00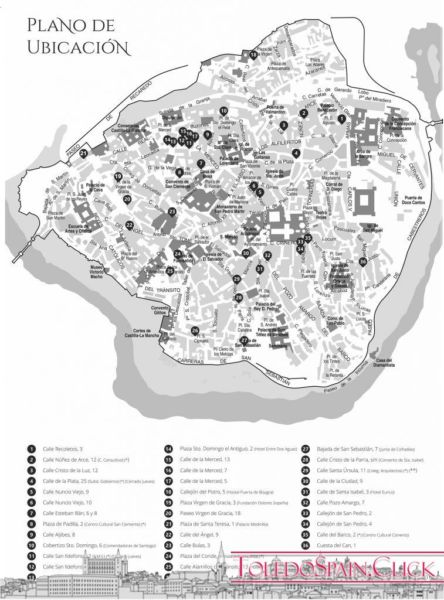 Patios Corpus Christi Toledo 2018
See more information about the Corpus patios in Toledo here.
The night prior to the procession (this year falls on Thursday, May 31, 2018) a parade runs through the streets through which the procession will run with the enormous and very rich Custody of Arfe. In the afternoon (and Thursday morning before the procession), the public attends the exit of the "Tarasca and the gigantones" that frighten the children. Get to know this curious tradition here: The Tarasca and the gigantones of Corpus. In the evening, a procession made up of authorities, musicians and numerous public, make the processional journey. Many toledanos and visitors take advantage to accede to the private patios (and of some public buildings) that exclusively in these dates open their doors. The courtyards are profusely decorated with plants and ornaments, which is an exceptional spectacle that is only seen during these days of the year.Corpus Christi Toledo 2018.
The night before, thousands of people take the opportunity to visit these patios and the processional route fully decorated. If you want a quieter time, on Thursday 26 May, after the procession, the streets are quite quiet.
Photo by jesusexto at Flickr.com. The Tarasca parading through the streets of Toledo…