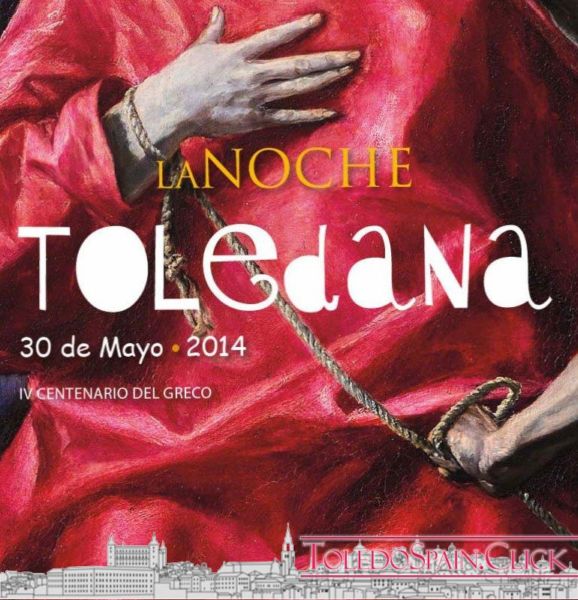 The City Council of Toledo has organized for this coming Friday 30 May the "night toledana". An intense program of activities that in this edition has as protagonist al Greco. Next we leave you the program of activities.
Click here to download the complete program in PDF
If you've come here looking for what it means to spend a night in Toledo, click here and we'll tell you.
FRIDAY 30 MAY
From 17:00 to 20:00 and from 21:00 to 23:00 h.:PAPIROFLEXIA WORKSHOP "El Greco en papel"
For the whole family, by Javier Caboblanco
Place:Museo del Greco
*Free entrance to the museum from 21:00 to 00:00
From 19:00 to 21:30 h.: PHOTOMATON- PHOTOSHOOT "Grecomanía y la farándula toledana"
A new concept of monologue that unites instant photography with humour, behave in time and characterise yourself with relevant people who inhabited the city of Toledo since the 16th century!
Place: Paseo del Tránsito (next to Museo del Greco)
19:00 h.: ACCOUNTS "Counting on El Greco" :
Story and song show for children from 8 years old,
of Yerbabuena productions
Place: Patio Toledano in Plaza Amador de los Ríos, 2
From 19:00 to 22:00 h.: ARTISTIC ACTIVITY "El Greco in a box"
Installation and workshop of painting in boxes with motifs from El Greco, for children and adults
In charge of the students of the School of Art
Place: Plaza de San Juan de los Reyes
19:30 h.: CONCERT OF CORALS
On the occasion of the 5th centenary of the Foundation of the Convent of San Antonio
– 19:30 h.: Nuestra Señora de los Infantes School Choir (Seises)
– 20:30 h.: Coral Siliceo
Place: Convento de San Antonio
From 19:30 to 21:30 h.: MUSICAL RINGS
Place: Toledo School of Art
* Free entrance to the exhibition from 19:00 to 22:00
From 20:00 to 23:00 h.: Visit to "El Expolio" by El greco in the sacristy of the Cathedral
Place: S.I. Catedral Primada (by the clock door)
*Free entry at the appointed time
From 20:00 to 23:00 h.: MUSICAL RINGS:
Students of the Conservatory "Jacinto Guerrero" and the Municipal School of Music "Diego Ortiz"
Place: Church of San Juan de los Reyes
From 20:00 to 00.00 h.: Night of open doors to the patios of Toledo:
Plaza de Santa Teresa, 1
Amador de los Ríos Square, 2
Tendillas Street, 4
Calle de la Merced, 7 y 13
In collaboration with: Association of Friends of the Patios of Toledo
20:30 h.: Concert of the music unit of the ACINF
ACINF Music Unit, students of the Military Music Corps and the Polytechnic University Choir
Organised by: Infantry Academy and Army Museum
Place: Patio de Carlos V- Museo del Ejército
21:00 h.: FLAMMA- Music and dance parades
Under the gaze of El Greco, represented by a great puppet, his assistant and friend Francisco Preboste will act as master of ceremonies, guiding musicians and dancers through the historical corners of the city.
Itinerary: Pl. del Ayuntamiento, c/ Cardenal Cisneros, c/ Ramón Sixto Parro, Pl. Mayor, c/ Tornerías, Pl. Magdalena, Tr. Barrio Rey, Plaza de Zocodover, c/ del Comercio, Pl. Solarejo, Pl. 4 Calles, c/ del Hombre Palo, c/ Trinidad, Pl. El Salvador, c/ de la Ciudad, Pl. del Ayuntamiento
Organised by: Greco 2014 Foundation
From 21:00 to 00:00 h.: MUSICAL RINGS:
Students of the Conservatory "Jacinto Guerrero"
Place: Museo del Greco
21:00, 22:00 and 23:00 h.: MAGIC AND HUMOR SHOW "Something more than magic" by the magician Josemi de Águeda
Place: Patio Toledano in Plaza de Santa Teresa, 1
21:15 and 22:30 h.: CONCERT: Aula de Canto y Ensemble de la Escuela Municipal "Diego Ortiz"
Place: Real Fundación- Museo Victorio Macho
* Free entrance to the Museum from 21:00 to 00:00
21: 30 h.: CONCERT OF VIOLONCHELO. Chiki Serrano
Place: Patio Toledano in Tendillas Street, 4
From 21:30 to 23:30 h.: ARTISTIC ACTIVITY "Decorating ceramics with smoke"
Association of Friends of the Toledo School of Art
Place: Jardines del Tránsito
From 21:30 to 00:30 h.: PHOTOCALL
" Pose in front of the photographers and sit down and celebrate for a day"
Photographic Association of Toledo
Place: Plaza del Ayuntamiento
22:00 h.: RECITAL OF POETRY AND PIANO. Lola Baldrich
Place: Lorenzana Palace
22:30 h.: CONCERT: Choir of the Universidad de Mayores "José Saramago" and the Band "Unión Musical Benquerencia"
Place: Patio de Carlos V- Museo del Ejército
23:00 h.: "Hidden stories in the painting of El Greco"
Show of stories and songs for adults,
De Yerbabuena productions
Place: Patio Toledano in Plaza Amador de los Ríos, 2
From 22:00 to 04.00 h.: MOON AREA
Concerts, DJ's, flea market…
Place: Jardines del Alcázar (space delimited with security)
SATURDAY MAY 31
From 12:00 to 15:00 h.: National Competition of Ham Cutters "City of Toledo" – Trophy Tello
Place: Plaza del Ayuntamiento
Organized by: Carnicas Tello and Grequísimo
In collaboration with: Toledo City Council
SUNDAY 1 JUNE
19:30 h.: Meeting of bands "Diego Ortiz"
-Municipal Band of Music of Munera (Albacete)
-Municipal Symphonic Band of Music of Torrelodones (Madrid)
-Diego Ortiz Municipal School Youth Band (Toledo)
Place: Plaza del Ayuntamiento
Click here to download the full programme in PDF
A nocturnal route through Toledo? Don't miss them during your visit to Toledo: toledospain.click