History and curiosities of Toledo train station, where the AVE / Avant arrives in 20 minutes from Madrid. The station to which thousands of travellers and toledanos arrive daily, just a few minutes from the centre of the Plaza de Zocodover. Useful information, contact and tricks to get to Toledo as quickly as possible from the AVE train station.
It was the 12th of June 1858 when the train arrived in Toledo, it was an event because until then the Imperial City had only been communicated by the Royal Road that went to Madrid or also by what is now Barber Avenue had access to some clumsy routes that went to Extremadura and Avila.
The towns were communicated with the capital by very rough and sometimes unviable roads that today we find difficult to imagine how painful would be certain trips, sometimes for pleasure but many others for obligation.
Toledo train station
Photo: Toledo railway station on 16 April 1914 © Archivo Histórico Ferroviario del Museo del Ferrocarril de Madrid. Photograph by F. Salgado. Symbol 3492-IF MZA 0-7 (Toledo Forgotten)
The arrival of the train to our city was a milestone, because Toledo in the 19th century was not poor, it was bordering on misery as there were no factories, factories or certain services, nor was it hooked on the incipient industrial revolution and had slowly become a city of the third order.
Only the Fábrica de Armas, the damasquino or the marzipan seasons somewhat mitigated the lack of work in the city, where the Plaza de Zocodover became a hive of workers and modistillas looking for a job or temporary work most of the time very badly paid.
And as the Toledan saying goes, being from Toledo, you had to be a fisherman or a bird watcher, to be able to survive on many occasions.
Sure you're also interested: Visit Toledo in one day (Updated)
Queen Isabel II and the President of the Council of Ministers, Francisco Javier de Istúriz, attended the inauguration ceremony of the railway. It was used to make possible the arrival of the train to our city the proximity to Castillejo which was the knot that united Madrid with Levante and Andalusia being its promoter Don José Salamanca, but in December of the year of the inauguration the concession was transferred to the MZA: Madrid-Zaragoza-Alicante Railway Company.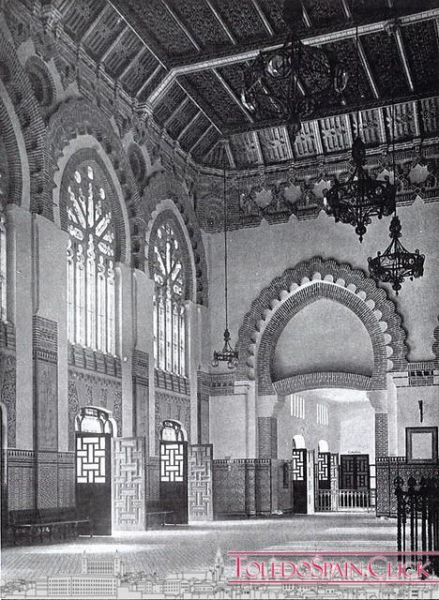 Toledo railway station at the beginning of the 20th century. The appearance is practically the same as today. Photo: Toledo Forgotten.
Around the station was created a neighborhood with some low houses, which as it was growing along the Paseo de la Rosa and other nearby areas began to be called as neighborhood of Santa Barbara, which today is one of the most populous and with the arrival of the High Speed, has gained new momentum and has nothing to do with those first houses occupied mainly by workers mostly.
Toledo Train Station, Toledospain
The old station built in 1858 was replaced in 1917 by a project commissioned to Narciso Clavería who designed a large building in the neo-Mudejar style which, although today it is considered one of the most outstanding monuments in Toledo, at the beginning of the 20th century it created no little controversy in Toledo as a more sober style would have been preferred, in the style of Eugenio Page's primitive station.
Toledo station was a terminal through the branch that came from Castillejo, but in 1927 the idea was to link Toledo with Bargas with a short stretch of track in order to connect Toledo with Talavera de la Reina and Extremadura, but this project came to a standstill in 1931 and was not resumed until 1938.
Once the Civil War was over, the connection between Madrid via Toledo-Castillejo and Cáceres was given the green light. However, this structure was born deficient from the beginning and it would not take long to reach the problems by the continuous overflows of the Tagus that even carried in front of a bridge where the track passed logically forced to cut the rail traffic when there was a flood and so in February 1947 the suspension was final although it was not dismissed until 1968, thus attesting to the saying that "whoever is badly wrong ends".
1947 Flood, Toledo Railway Station. Photo: Toledo Forgotten
In this way, therefore, since 1947 the Madrid-Toledo road has been a dead end. In 2005, after more than fifty years of conventional trains, the High Speed arrived in Toledo (Avant – Renfe) by means of the Sagra road, linking our city with Madrid in less than half an hour, but in exchange for these fast trains we lost the traditional track width without counting on freight trains, anomaly that should be rectified as soon as possible and already set to dream, I think that the train terminal had to approach the area of the bus station in the area of Safont making this area a large interchange of trains and buses with good access to escalators without detriment to the fact that one day the track may continue to Extremadura.
Toledo AVE Train Station, Toledospain.
Toledo Train Station building
Toledo station is a splendid building declared of Culturel interest and has also been a "monumental station" since 1991 and is truly a magnificent business card as a prelude to the wonders that can later be visited in our city. Once you enter the interior we are dazzled by the spacious lobby which makes it look like we have entered the scope of a Mudejar cathedral, because it also consists of a beautiful and solid tower that instead of having a bell tower houses an eye-catching clock with four spheres visible from any side that we see it.
The materials used in this singular station were brick and stone, as well as iron and cement; the whole construction of plasterwork by Ángel Pedraza, woodwork by Cristino Soravilla, tiles from the Casa Mensaque in Seville and iron forging by Julio Pascual were decorated.
The numerous lattices let through a dim light that sometimes gives it an oriental aspect. In order not to extend more in the description of the station that does not correspond to do it here, only to say that it also consists of what in principle was canteen and today is denominated cafeteria and of a beautiful and recollected chapel in the low part of the tower, where mass is said on Sundays; it is surrounded by a small but delicious and cheerful garden.
The terminal is connected throughout the day with the old town and other neighborhoods by urban buses with a stop at the Paseo de la Rosa. There is also a taxi rank.
Currently, Toledo train station is only served by high-speed trains (Avant) from RENFE from Madrid (takes about 20 minutes).
AVE Station / Avant Renfe Madrid – Toledo by Toledospain Hernández
Useful facts about Toledo Train Station
Address: Paseo de la Rosa, s/n.Toledo.45006- TOLEDO. See location in Google Maps.
Information, reservation, sale, change and cancellation of ticketsAttention disabled travellers.
Price: from 12,90 per way. There are offers for round trip and frequent travelers. Consult the RENFE website for the Madrid/Toledo trip.
Toledo Train Station Timetable:

MONDAY TO FRIDAY EXCEPT HOLIDAYS: 06:00 TO 22:30 – SATURDAYS, SUNDAYS AND HOLIDAYS: 08:00 TO 22:30
Immediate sale of tickets:MONDAY TO FRIDAY EXCEPT HOLIDAYS: 06:15 TO 22:25 – SATURDAYS, SUNDAYS AND HOLIDAYS: 08:15 TO 22:25
Advance ticket salesDAILY: 09:30 to 21:00

Contact telephone AVE (High Speed Train) Station in Toledo: 912 432 343
Maps of Toledo AVE Train Station
More information about the Toledo AVE Station in this link.
Bus lines near the AVE Renfe Toledo Station:
Exit the station and to the right there is a bus stop.
Lines: 5,6, 9.2 (Mon to Fri), 9.3 (Sun), 11 and 22 hours.
In the inner courtyard of the Station, which faces directly onto the street, taxis are available at a good price (especially if you travel several together) to take you to Zocodover Square. Also in this area for the tourist bus.
Parking at Toledo AVE Station
In front of the station there is a large free, asphalted and illuminated car park. In the inner courtyard, on one side there is a paid parking. If you pick someone up by car, the first few minutes are not paid (there is a limit).
You can also park in an unbuilt area on the left side of the station, just before the bridge, but in winter it is usually muddy.
How to get to Zocodover from Toledo AVE Station?
If you have time, you can walk to the Plaza de Zocodover in about 20 minutes crossing over the Tajo bridge and the new Escaleras Mecánicas (escalators) that go up to the Miradero (see more information about these escalators).
It is a pleasant walk that will allow you to take great pictures of the river, if it is not too hot or too cold.
Bridge of Alcántara and Alcázar de Toledo.