In recent years Toledo has become a very interesting destination for your wedding. The wonderful Cigarrales, the importance of its restaurants and the beauty of churches and monuments make the city a perfect destination for the bride and groom to celebrate with their families and friends the most special day of their lives. The following are the most recognized Cigarrales in the city to celebrate a wedding.
Wedding trends have also changed over time and now many couples choose to spend a weekend in Toledo to celebrate their wedding.
In a church or in a civil ceremony, Toledo offers beautiful spaces to celebrate any type of wedding, with hundreds of guests or just a few family and friends. Toledo weddings.
The more than one hundred monuments and museums preserved in the city also offer a perfect setting to arrive on a Friday, stay in one of the many hotels or tourist apartments in the city, do some leisure activity and on Saturday or Sunday perform the ceremony and banquet or celebration in one of the spaces we like most as toledanos (and are not in a special order)
What's a "Cigarral" in Toledo?
Quickly explained, we consider in Toledo a cigarral to a farm on the land surrounding the city, with a main construction and several secondary buildings, extensive gardens or plots. The origin of the term is not clear, although it could refer to the presence of cicadas in the hottest months.
Cigarral del Ángel
An impressive estate on the banks of the Tagus with large gardens welcomes us to celebrate any type of wedding, in its spacious lounges, in the open air gardens with a stunning view of Toledo.
Its kitchen is in charge of the renowned chef Iván Cerdeño.
Official website of Cigarral del Ángel.
Telephone: 925256745 / 683 66 62 00
Address: Carretera de Puebla De Montalbán, s/n
Views from the Cigarral del Ángel in Toledo. Source: Cigarral del Ángel website.
Cigarral de las Mercedes
A few minutes also from the old town of Toledo is this large estate in which they make numerous weddings and events of all kinds. They have a large marquee set up permanently to hold large banquets and other large spaces such as gardens and even accommodation.
The views of the historic city of Toledo from its gardens are also impressive.
Official website of the Cigarral de las Mercedes.
Telephone: 925 25 20 64
Address: Carretera de Piedrabuena, 72.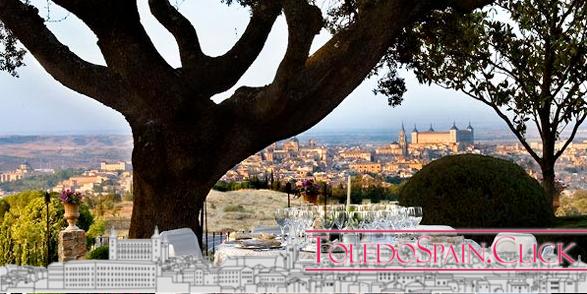 Wedding at the Cigarral de las Mercedes in Toledo. Source: Cigarral de las Mercedes website
Cigarral Vineyards Santa María (Adolfo)
A large lounge, a terrace overlooking Toledo, several spaces for your wedding, a vineyard, a spectacular kitchen by the hand of renowned chef Adolfo… Everything are advantages and quality for the most special day is perfect in Toledo.
Official website Cigarral Santa María.
Telephone: 925 252 694
Address: Cerro del Emperador, s/n.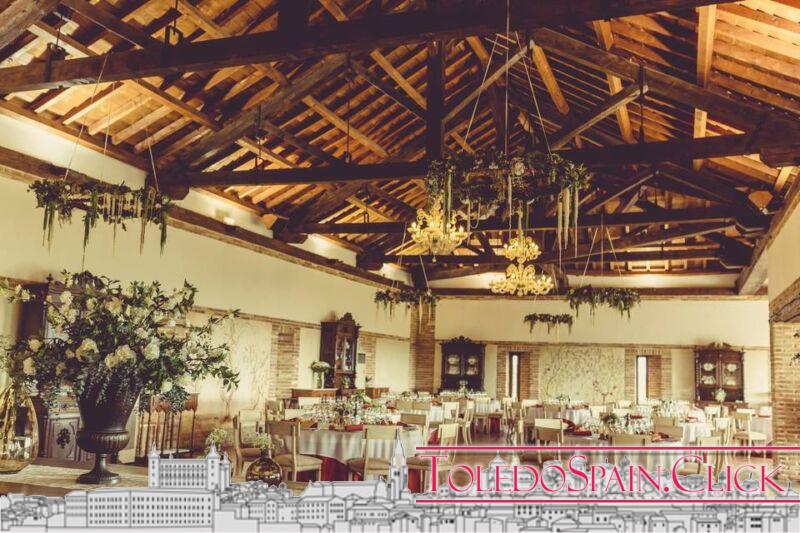 Hotel Cigarral El Bosque
A five-star hotel, which allows all your guests to stay to enjoy the most special night. Spacious gardens overlooking the historic centre and a kitchen with the most typical and well-known dishes of Castilian cuisine.
Official website Cigarral El Bosque.
Phone: +34 925 28 56 40
Address: Carretera Navalpino.
The Red Laundries
50 hectares of land receive us in an environment located on the banks of the Tagus, just 10 minutes from the old town. Its different gardens and palace-house will make any event, especially a wedding, exceptional.
The official website of the Rojas Laundry rooms.
Phone:686 652 348
Address: Camino de Albarreal, s/n
Cigarral Peppermint
A magnificent Toledan house on the banks of the Tagus River, surrounded by a set of gardens of flowers and olive trees, with stunning views of the old town of Toledo.
Web Cigarral Peppermint.
Phone: 925 229 186
Address: Carretera Navalpino, 45.
Cigarral de Caravantes
Three star hotel, summer terrace with lots of people and space for your wedding and to accommodate guests. El Cigarral de Caravantes has it all, plus great views of Toledo.
Web Hotel Caravantes Toledo.
Phone: 925 283 680
Address: Carretera de Circunvalación, 2.
Pintor el Greco Cigarral
A finca a little farther away from Toledo, but perfect for an intimate wedding in its garden with swimming pool. It allows guests to stay in the rural hotel.
Web address of Cigarral del Pintor.
Phone: 686 665 577
Address (see GoogleMaps)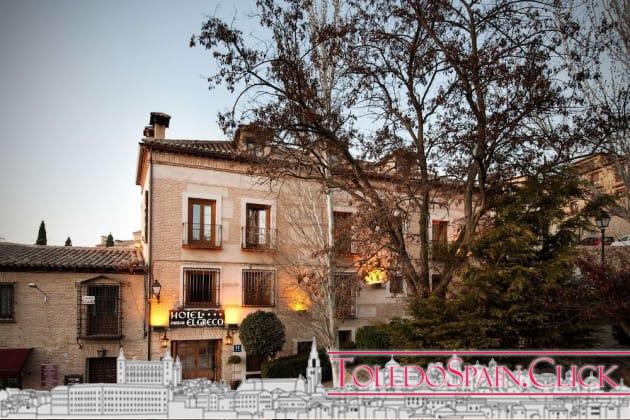 Cigarral Monte Rey
The Restaurant Cigarral Monte Rey in its privileged panoramic location, contemplates all the monumental and modern city of Toledo. Magnificent views of the city accompany us at the table. Natural and landscaping enclave with private parking.