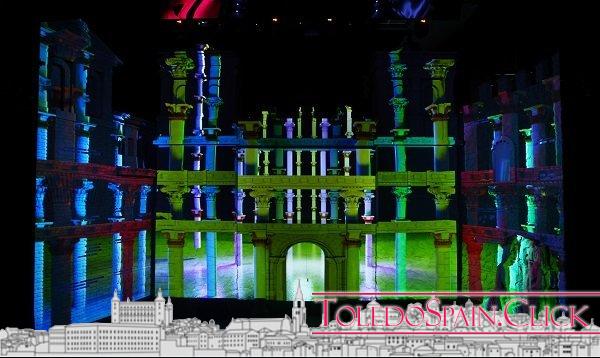 Toledo Time Capsule
Toledo Time Capsule is to know Toledo in a different way. The city of Toledo has always been an inspiration. A place where the Three Cultures lived together creating art, science, philosophy or literature. A legacy that has left us an indelible mark.
PERMANENTLY CLOSED.
The creators of Toledo Time Capsule wanted to pay tribute to this city with an artistic work that pays tribute to "La Convivencia".
Toledo Time Capsule is a multisensory projection in which you will travel through the history of the city of the Three Cultures and in which Toledo is presented from its origins in a time frame in which past, present and future make sense.
The original soundtrack, special effects such as holograms, olfactory effects, laser or enveloping design, transport the public in space and invite them to understand the message of this city, encouraging them to transmit the idea of coexistence between cultures.
Toledo Time Capsule is an entertainment experience so real that you'll feel it in your bones, so magical that it takes you to places you've never been before; so inclusive that you won't just be looking at a screen, but will be part of the action. Behind it is a world of high technology: proprietary software, state-of-the-art architecture and equipment.
Technology
For the realization of Toledo Time Capsule the latest technology of the market has been used.
I'm sure you'll also be interested in: "Luz Toledo Gastronomic Capital" 2016, from 15 to 17 September.
An impressive LED mesh runs through the entire deck with an area of 70 square meters, five high definition Panasonic projectors turn the images into works of art, holography, wraparound screens that cover the entire room to recreate a sensation of 360 º, laser effects, video screening, artistic lighting, live filming of the spectators integrating them in the projection, surround sound system, smoke machines, olfactory recreation machines and video mapping, in addition to an original soundtrack that shakes the spectator created exclusively for this project by Mayumana.
VIDEO: http://toledotimecapsule.com/el-espectaculo/
In addition to all this the ticket to the show includes the Victorio Macho Museum, an unparalleled space in the city of Toledo. A sculpture museum that leaves no one indifferent, for the beauty it houses and that everyone loves. In addition to the best views of the city from where you can take fantastic photographs and the Rock Tarpeya.