The multimedia projection show "Luz Toledo" will be held this year 2016 on 15, 16 and 17 September, from 22 hours, on the facades of the Cathedral and City Hall.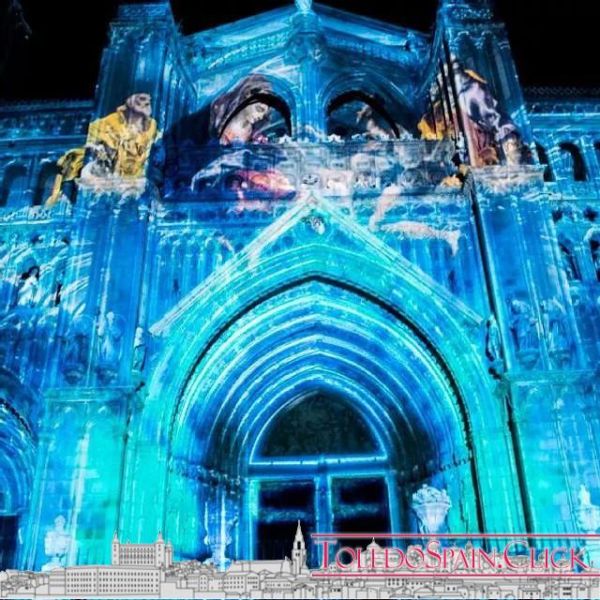 Times of the passes: "Luz Toledo Gastronomic Capital 2016"
Day 15: 22:00, 22:30, 23:00, 23:30, 00:00, 00:30 hours.
Day 16 and 17: 22:00, 22:30, 23:00, 23:30, 00:00, 00:30, 01:00 hours
Place: on the facades of the Cathedral and the Town Hall.
Update 12/9/16: the City Council has announced that brief theatrical performances will accompany the projection at different points of the helmet.
Each pass has an approximate duration of 10 minutes and, once the screening is over, the square will be evacuated for the next session; in order to liven up the waiting and promote movement within the Historical Quarter, a programme of brief performances in different squares has been organised, which will contribute to boosting the night-time offer.
These performances will take place in Zocodover, Plaza Mayor (escaleras del Rojas) and Corralillo de San Miguel and will consist of performances of about ten minutes of dance, masks and clown, an initiative that is part of the sponsorship agreement reached between the City Council and Coca-Cola for the Gastronomic Year. The passes will be every half hour on three days, from 10:00 at night to 1:00 in the morning.
Here we share the videos of some of the most outstanding video-mappings of other years:
And when I've seen Luz Toledo, what do I do?
The show lasts about 20 minutes, and there are a lot of passes. Before or after attending the screening, you will have the option of doing a different guided tour, at night, through the city that will surely surprise you. In "Toledo Spain" have scheduled many guided tours for those days with great deals on the occasion of the show. Among the routes there are famous proposals such as "Toledo subterranean" (7 subterranean are visited), "Toledo magic", "Toledo Spain", the unusual "Toledo sinister: houses and enchanted places" or "Templars and legends of mystery", which begins at 23 hours on Saturday and crosses the streets of Toledo at midnight. You can find out more and book these guided tours here.
I'm sure you're also interested: Corpus Christi Toledo 2016. Information and programme of activities
More information: www.encastillalamancha.es