There are many tourist guides who tell us what to visit, where to eat, sleep or how to get to Toledo, on paper or on the Web. Over time you discover that the best way to travel to another country, to another city, is in the company of someone who knows the place well, if possible live there. Only in this way will it be possible to discover those places that in a quick visit, sometimes very disordered, would never be visited.
Once upon a time Toledo from fmcreativa Studio on Vimeo.
The best way to visit Toledo is not in an organized "tour" of those who come running to the city and in a few hours return to the starting point or the next destination. Neither in a marathon that takes us to take the first AVE of the morning, to cross some monument of the city (Cathedral – Alcazar – Sephardic Museum – Greco Museum…), to eat, to buy some souvenir and "to leave fleeing" again towards Madrid.
That's not how Toledo will be known.
This past week of Corpus Christi I had the opportunity to meet many people who were coming to Toledo for the first time. They were literally ecstatic about the beauty of the city and everything that could be done here. And many lamented not knowing all this before and making a quick, too little, visit to the city. Almost all of them had arrived from Madrid by bus or AVE and left within a few hours, did not stay in the city and missed one of the most gratifying experiences: "La noche toledana".
Insurance that you are also interested: New digital book: "Toledo, tourist guide" by Juan Luis Alonso Oliva
The first thing is to find the perfect accommodation in Toledo. I could recommend some Hotel, but I reserve this for the visitor's discovery, because it depends a lot on what you want to spend…
Once here, you have to visit a monument. Toledo is the second monumental city in Europe, surpassed only by Rome, and coming to the city without visiting "the essential" is a mistake. However, you would need several days to visit the complete catalogue of monuments and museums of the city. Here are some clues: 12 monuments not to be missed on a visit to Toledo.
San Juan de los Reyes, interior
If you have little time, we have already talked about spending a weekend in Toledo or making a visit to Toledo. Either way, you'll probably need to have these Eight good tips on hand to visit Toledo for the first time and Where to park for free in Toledo, as this is a real "adventure" in the city.
In these links I provide you with a good list of articles to get to know the city better:
What to see in Toledo. A brief guide to travel to the Imperial City..
What route do I take in Toledo?.
Get out of gear. The night in Toledo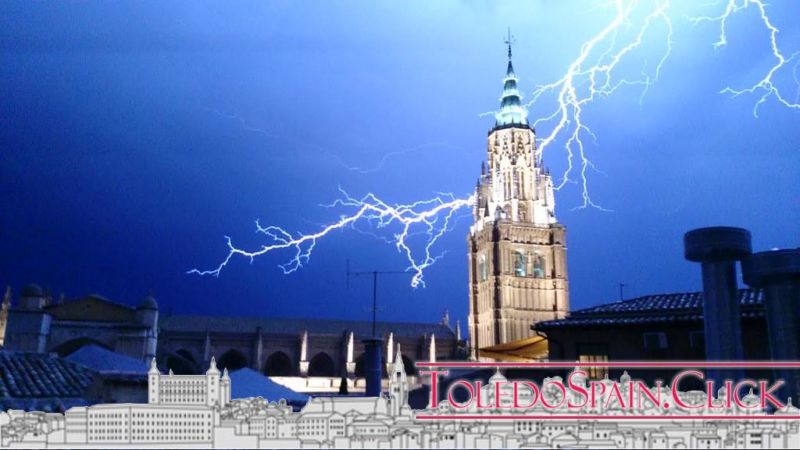 Storm over Toledo
Storm over Toledo in 2014. Photo: Nano Lázaro
But before… If you really want to know the city, as we said at the beginning, hand in hand with the people who live there, accompanied by authentic researchers "of Toledo", with many years of experience and books published about the city, make a route with "Toledospain.click Guides". Let yourself be surprised by how much Toledo hides, by the hundreds of legends and myths, anecdotes, historical curiosities and let yourself be carried away by corners and secrets that are not usually visited in other routes. More information on routes around Toledo.
I'm sure you'll also be interested: XVII Jornadas de la Tapa in Toledo (2016)