A great week is approaching on "Toledospain.click Guides" ! Now that Corpus has passed and it seems that the city enters the summer lethargy propose an intense weekend from 21 to 23 with the grand premiere of the route "Toledo sinister" (with a purple offer) and the celebration of the "Night of San Juan".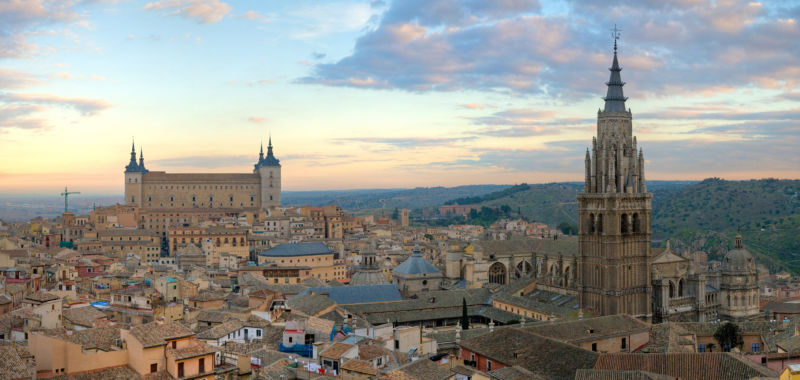 NOTICE: FRIDAY 22 COMPLETE. There are still some places left for Thursday…
GREAT ROUTE PROMOTION! "You're going to turn purple" If you come to the new route "Toledo Siniestro" on Thursday 21 or Friday 22 June with a purple garment (preferably shirt, t-shirt or top) the route will only cost you 2 € per person and you will be able to attend the premiere of a "scary" route. It is not a secret that when night falls on Toledo certain beings that do not usually walk through its streets arise from the shadows to accompany us in some houses, corners… In Toledo are legion souls that have inhabited the city since time immemorial and many of them still remain there. Join us on this different route through spaces related to apparitions, enchantments and many other mysteries that are difficult to explain.
A new route created exclusively by "Routes of Toledo", with terrifying anecdotes that have never been told before, mostly because they come from the latest research in archives and historical press.
I'm sure you're also interested: Secret routes around Toledo
Route description "Toledo Siniestro"
Toledo Siniestro: houses and enchanted places
Toledo still has much to teach us, and sometimes we discover that in the past of this millenary city many stories and experiences lost in time are waiting to be discovered and shown to everyone. Within these rescued narrations there are some more special and disturbing than the others. We are referring to the inexplicable, strange and overwhelming cases related to different types of presences that occurred in a multitude of buildings in Toledo.
Do you dare to travel with us the most sinister and enchanted enclaves of the city of Toledo? Where they say "strange" things happen, those that nobody dares, not even to pronounce their name. Others, on the other hand, give names to the streets that house them…
Along this route we will walk through the most famous enchanted places, those plagued with stories, "life after life" and paranormal phenomena.Houses full of shadows, of incredible narrations, that give shelter to strange dwellers and that make these places take on a life of their own.
There are many real testimonies collected over the years. Some of them make your hair stand on end… Testimonies that speed up your heart, take away your sleep and make you turn your head when you only walk through these enclaves in the dim moonlight.
Do you dare listen to them? Come with us for a walk on a route that rescues stories lost in the night of time…
St. John's Night
Celebrate the arrival of summer with "Toledospain.click Guides", doing something different. Take part in a very special, magical route, with queimada, bonfire, witches… And the best narrations of Luis Rodríguez Bausá. A unique occasion. Saturday 23 June at 21:30.
The special route for the summer solstice night includes everything you need to enter the summer with the best foot:
Queimada in a patio in Toledo..
Magic "special" route of two hours duration.
All this for the price of 15 € per person, starting at 21:30 hours. Places are limited. Book as soon as possible…
More information and reservations at "Toledospain.click Guides" (link)