Marzipan is a very typical sweet throughout Spain and particularly in Toledo, where at Christmas especially and throughout the year the visitor can buy the best candy made with the aim of giving the most typical flavor to the Christmas season.
Photo: JuanJaén on Flickr.com
However, it was not in Toledo that this sweet was invented. Centuries before, it was already known in Italy and the Arab countries. What is certain is that the degree of excellence achieved in this product in the city is very remarkable, and is currently exported to numerous countries, as well as being a delicacy much appreciated by the Toledo. Sometimes even known monuments from Toledo have been reproduced using exclusively marzipan.
Other sources add that it was in Toledo where the candy was invented. The word, although of Arabic etymology, has a traditional origin based on legends that tell us that it was invented in times of scarcity by the nuns of the Toledo Convent of San Clemente. "To calm the need for food, the nuns made a very sweet paste, made from the only two raw materials they had: sugar and almonds. "Pan de Maza" was the name given to this dough when it was baked in the oven that supported the besieged. From then on, Toledo would become the cradle of marzipan. It was in 1615 when Philip III approved the ordinance of the Toledo Confectioners' Guild, in recognition of its good work in the preparation of homemade pastries".
Today, in certain convents in the city and province, you can still buy exquisite marzipan made by the nuns.
During the Civil War, and due to the shortage of supplies, including sugar, it was replaced by dried figs to sweeten the paste. It is also common to buy marzipan "eels" of very different sizes on Christmas Eve. The explanation of the representation of this animal with marzipan has a curious origin: in the Tagus river until the 19th century exquisite eels were bred, very appreciated in the tables of Toledo… Once extinct, the confectioners of Toledo began to reproduce them in marzipan, until today.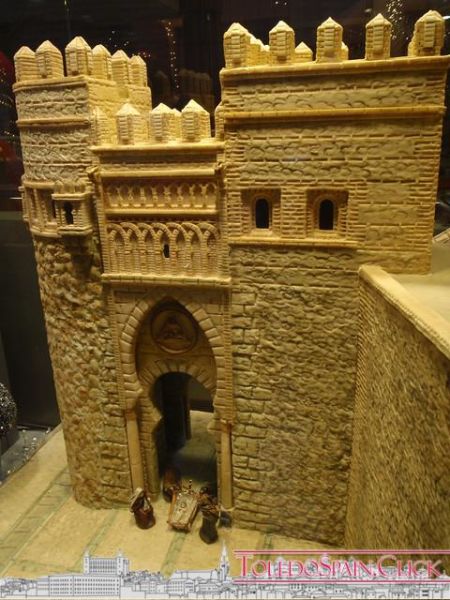 Related links:
– "Platodeldia.com"
– Santo Tomé. Confectionery maker from Toledo.