Where to park for free in Toledo. One of the most frequently asked questions, given Toledo's special urban distribution, is where to leave your car parked during your visit or time spent in the city.
We have located on a Google map the different parking payment, free parking areas (free), regulated parking…, and we offer some tips and recommendations to get to Toledo with your car. (Updated)
Is it easy to park in Toledo?
As a good medieval city, not initially intended for today's traffic, Toledo's old town is a real labyrinthine trap for cars. It would not be the first time that an incautious person tries to enter through the narrow streets of the city and fits his vehicle between two walls.
Centuries ago the walls of many streets in Toledo were drilled so that the wheels of the carriages would not be fitted together, but today it is more complicated with the different sizes of the vehicles…
First of all, it is not a good idea to get to the door of the Hotel with the car if it is inside the "helmet" (the inner area to the walls, old town, with some exceptions).
Our advice is to call the Hotel, tourist apartment or Hostel where you are going to stay if you come for several days and consult the most comfortable way to get to the door of the accommodation in the best possible conditions.
It is not advisable to access the helmet by car with a GPS, as the reception is sometimes bad in its narrow streets and is a real labyrinth of slopes and dead ends.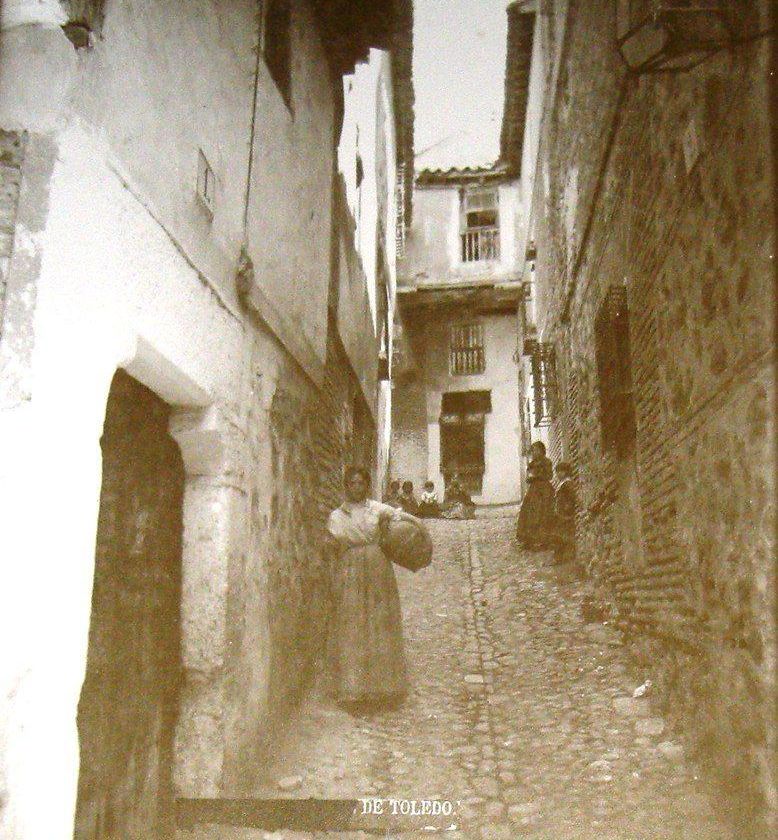 For some years now, the Town Hall has begun to raise certain days "without a car" in the helmet area and traffic problems are slowly improving, although at present you may have certain problems in streets such as pins with cars, given the little space available (especially if you carry a baby carriage or a wheelchair).
Finding good free parking in #Toledo is complicated, but not impossible. Here's where to park! Don't pay attention to the GPS to get into the old town! Click to Tweet
Toledo car parks in GoogleMaps
In the following map we have located the zones of parking "free" and parkings of payment that there are in the city of Toledo (there are more), especially those that can be useful to make tourism:
GPS doesn't get along well with Toledo's old town
WE INSIST. Do not try to access with your car trusting the GPS, probably end up with a good "brand toledana" in the plate of your car or but, stuck without possible exit in a very narrow alley.
Also note that many streets in the old town only allow access to "residents", the access being regulated by a system of pivots that rise when a user passes with the appropriate authorization.
If they are lowered, it is because they are on schedule or for any other reason. Even so, we do not advise to pass because later when you try to leave you may find them lifted.
Do not "do the tourist" and try to accelerate behind an authorized resident… I warn you that the pivots go up very fast.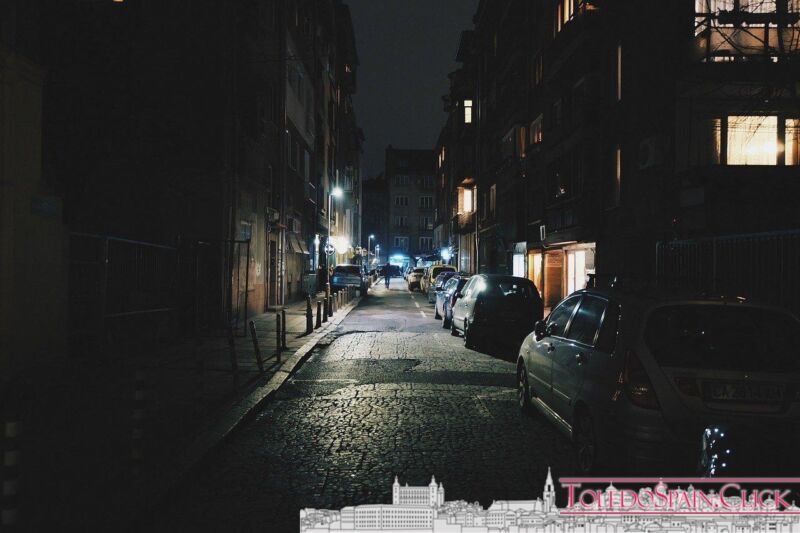 Cars in the Plaza del Ayuntamiento, 80's. Photo Eduardoasb in Flickr.com
Recommendations for parking in Toledo
First of all, there are many free parking spaces, almost all outside the old town. Toledo is not a very large city, so in about half an hour we can reach Zocodover from any of the free parking areas. Usually they are also well communicated by urban buses.
1. Pay for parking in Toledo
If you don't have money problems, it's easy to park in Toledo. There are several underground payment car parks that make it easier to get into the hull (see map).
You also have several time-regulated parking spaces (TRO), as mentioned above. On their website you have more information (link)
2. Payment parking in the streets of Toledo (Parquímetros)
Occasionally, in places where it is possible to access and park, we find parking areas monitored and regulated (paid) with parking meters (ORA), differentiating various colors painted on the floor depending on the type of parking allowed:
Green zone: only for residents.
Blue zone: paid parking, with a maximum of two hours.
Orange zone: paid parking, no maximum time.
The schedule for this "on the street" parking lot is:
Monday to Friday: – 10:00 to 14:00 – 17:00 to 20:00 Saturdays: – from 10:00 to 14:00 hours
In the afternoon it's free on Saturdays and Sundays and holidays too!
You can pay (see tariffs) for regulated parking with parking meters with the mobile application or in cash at the green posts located near the regulated area.
More information is available on this website (link ORA)
3. Underground payment car parks:
| Aparcamiento | Gratuito | Dirección | Capacidad | Plazas Libres | |
| --- | --- | --- | --- | --- | --- |
| Parking Safont | SI | Avenida de Castilla-La Mancha, junto estación autobuses | 635 parking spaces | — | How to get there |
| Courts zone | NO | Bajada Castilla la Mancha | 318 parking spaces | 73 | How to get there |
| Parking Corralillo San Miguel | NO | Paseo del Corralillo San Miguel s/n | 515 parking spaces | 397 | How to get there |
| Santo Tomé Garage | NO | Calle Santa Ursula, 3 | 60 parking places | — | How to get there |
| Parking Recaredo | NO | Paseo de Recaredo, 27 | 434 parking places | 359 | How to get there |
| Parking Nara | NO | Plaza de la Ciudad de Nara | 305 parking spaces | 10 | How to get there |
| Parking Aquisgran | NO | Calle Bruselas, 5 | 284 parking places | 242 | How to get there |
| Parking Palacio de Congresos (Miradero) | NO | Calle Gerardo Lobo s/n | 384 parking spaces | 255 | How to get there |
| Parking Paseo de la Rosa | SI | Paseo de la Rosa s/n | 500 parking places | 434 | How to get there |
Where to park for free in Toledo
Although in some cases a little more withdrawn, there are certain areas in Toledo to leave the car without paying a single euro. Below we detail the most interesting to do tourism in the city. We have marked them on the map and they are:
Safont Parking: Very close to the bus station (which will allow you to get into the helmet in a short time). You can also do it walking, it's about 20-30 minutes.
Since the winter of 2015, you can also climb the new escalators, which leave you at the Miradero in less than 10 minutes, so this option is the most interesting). Keep an eye on the slopes if you go up on foot.
Many free places and paved, ideal for spending a day (or several) in Toledo.
In certain festivities this free car park is usually signalled by the Town Hall with signs "Historical centre car park – Safont". Access is via the entrance to the bus station (before entering the garage, turn right).
– Paseo del Carmen Parking: years ago the market known as "el martes" was set up here in Toledo (if you ask about this space, any Toledan of a certain age will be able to tell you where it is). It is very close to Zocodover, the most central and well-known square and a good place to start a visit. It is usually quite busy. It is neither regulated nor paved. In 2015 this "car park" became a park, it is no longer possible to park there. We leave it in case some GPS keeps trying to take you there to park.
– Zona Circo Romano – Venta de Aires Parking: ample space in which toledanos park frequently. Unpaved (although not repaired long ago), with frequent potholes and sometimes quite crowded. Very close to Paseo de Recaredo, where we can access the escalators that take us directly to the helmet.
Sure you're also interested: 12 monuments not to be missed on a visit to Toledo (updated 2023).
– Toletvm Parking: in the Tourist Reception Centre there are two large paved parking spaces. This car park is located on the access road to Madrid, so it is very easy to get there (at the roundabout where you will find the sculpture of King Alfonso VI on horseback). It is about half an hour or a little more from Zocodover on foot and has a very close bus stop.
– AVE Station and new car park: area where people who go to work on the AVE to Madrid usually park. It is usually very crowded in the mornings. In front of the station, on the other side of the bridge over the Tagus River, a large car park has been paved, allowing you to leave your car safely and free of charge.
As in Safont, it can be reached in a few minutes using the new escalators that go up to the Miradero (see more information).
Keep an eye out for the fact that the escalators have closing times… Even so, if you walk from Zocodover without stairs, it would be at most about 40 minutes of a pleasant walk through the Bisagra door.
– Santa Teresa Parking: although a little further away to access the helmet (walking a little in about half an hour we would reach Zocodover) this very large car park, free, unpaved but with gravel compacted to a large extent, is an area widely used by Toledo shoppers to the neighborhood of Santa Teresa or the frequented area of drinks and terraces next to the car park. (2019: Currently under construction and cannot be parked in its entirety)
In Toledo, inside the wall, you can only walk, it is very difficult to access with the car, and less with the GPS as we have told you…
* Taxis: if you leave the car far away and then don't know exactly how to return, you can find Taxi stops near Zocodover Square (ascent to the Alcazar) or at the Bisagra Gate, next to the tourist office. You can also make use of the radio taxi service by calling 925 25 50 50. The prices, on this link.
Note: Uber and Cabify do NOT work in Toledo…
Once you have located your car park, book a different guided tour of Toledo with "Toledo Spain".
Book your tour in Toledo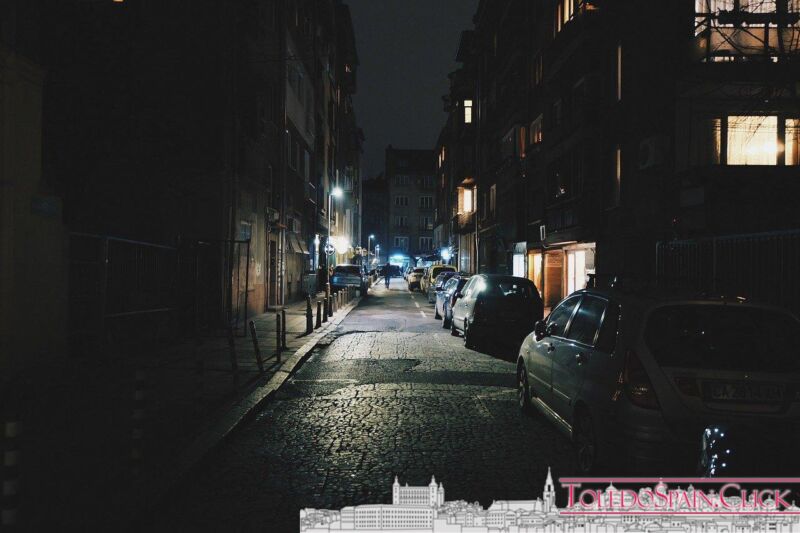 Kings luxury? Don't try to get to the Cathedral by car like Alfonso XIII did… Photo: Eduardoasb on Flickr.com
Links of interest:
Toledo city buses: http://www.unauto.es/
Toledo Regulated Parking (ORA): http://www.toledo-ora.es
Toledo Car Parks (Town Hall, Web mobility): http://www.turriano.org/
Parking lots, on GoogleMaps at this link.
And once you've parked: what to do and see in Toledo.
Have you parked outside the wall and want to go up to the old town of Toledo?
Use the escalators. Read here where they are and schedules.