Toledo has not had a tradition of tapeo like other cities well defined and established for years. These days we are witnessing the birth of a new and interesting proposal, called "El Barrio de los Conventos", in which a group of hoteliers have joined together to promote a route that offers an "innovative and varied offer for all tastes and within reach of all pockets".
It is true that many and varied tapas and pinchos can be tasted in many bars, taverns and restaurants in Toledo, but to date there has not been a proposal organized for its promotion beyond the "Jornadas de la Tapa" that are occasionally organized by the Toledo Hotel and Tourism Association.
This new gastronomic proposal, made by a group of establishments in the city, stands out for the tasting of some of the best wines in the land and a wide variety of original tapas, which involves a group of bars, wine bars, taverns and restaurants, located in an area with a significant concentration of convents, hence its name "Convent District.
It is an easily accessible area (it can be reached quickly from the escalators of the County Council) or from the city centre, traveled daily by hundreds of tourists, who can now taste a gastronomic offer, a passport that they can stamp for visiting establishments and with which they can get a gift when they get 6 stamps.
Where to go for tapas in the Convent District of Toledo?
The participating establishments are……………………………………………………………………………………………………………………………………………………………………………………………………………….:
La Clandestina (Tendillas Street, 3)
Korokke (Capuchinas Square, 2)
Taberna el Encanto (Plaza de la Merced, 5)
Hotel Entre Dos Aguas (Plaza de Santo Domingo el Antiguo)
Abrasador El Ambigú (Calle Tendillas, 8)
Fable (Calle La Merced, 6)
Embrujo Tavern (calle Santa Leocadia, 6)
Entrevinos Homebar (Calle Real, 3)
El Rus Tavern (Calle Real, 11).
Here they are on a map: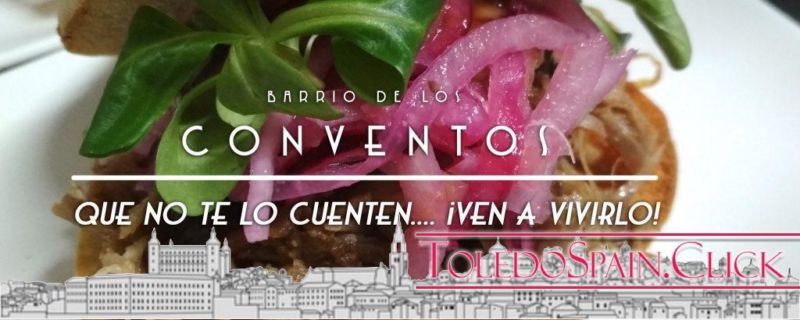 Convent District – 2018. Source: Twitter @barrioconventos
You can follow the promotions and events organized by these establishments in the Twitter account: