The "Toledan Nights" are two days of cultural activities, extraordinary openings of museums and monuments at night, street shows, music, etc., which take place in Toledo on 20 and 21 April 2018. We tell you everything that will be programmed!
CONSULTA EL PROGRAMA DEL 3 Y 4 DE MAYO: NOCHES TOLEDANAS 2023 HERE.
The mayoress of Toledo, Milagros Tolón, presented this Wednesday the cultural initiative "Las Noches Toledanas 2018" which will take place on 20 and 21 April, Friday and Saturday, in more than 50 spaces of the Historical Center with a program of 70 activities in which academic and cultural institutions such as the Municipal School of Music "Diego Ortiz" or the Professional Conservatory of Music "Jacinto Guerrero", as well as cultural associations of the city and the Association of Hotels and Tourism.
The "Noches Toledanas 2018" will offer 70 cultural and artistic activities in 50 spaces of the Historical Center of Toledo.
Complete 2018 Toledan Nights Program:
Click here to download the program in PDF format.
Music, dance, art and heritage in Toledan Nights 2018
The activities will begin on Friday 20 April with the proposal 'De plaza en plaza' which will develop from 19:00 hours with six concerts in different areas of the city. That same day there will be an exhibition of the School of Music and Dance 'Merevel' in the square of Zocodover from 20:00 hours. It is a two-hour show with hip hop, modern and classical dance, flamenco and a Funky master class.
I'm sure you'll also be interested in: Medieval Market in Toledo 2023
On Saturday, April 21, at 21:00 hours the Plaza del Salvador will become a flamenco tablao with Marta Guillén, Manuel Jiménez, Juan Hernando or Israel Paz; and half an hour later, at 21:30 hours, the stage of the Plaza del Ayuntamiento will raise the curtain on Gisela, the voice of the Disney songs, in a thematic concert around the soundtracks of the films of this factory of drawings, dreams and illusions.
Also, on Saturday at 22:00 hours will take place the Swing Concert by 'El Molino Big Band' in the Palace of Lorenzana, and Mass time the Church of St. Peter Martyr, in collaboration with the UCLM, will host the musical show 'Coplas de Leyenda'.
Later, at 23:00 hours, 'Las Noches Toledanas' will be rounded off in Zocodover square with a concert of tributes by international artists and groups such as James Brown, the Rolling or Iron Maiden; and the fireworks show from the Alcázar.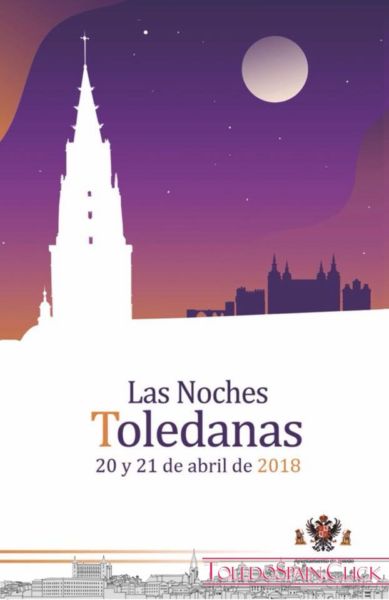 Toledan Nights Program 2018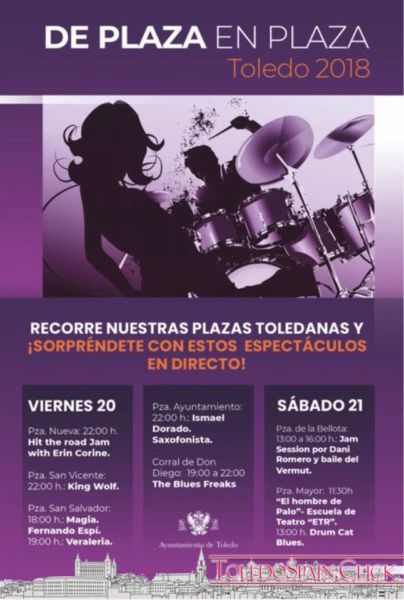 Toledan Nights Program 2018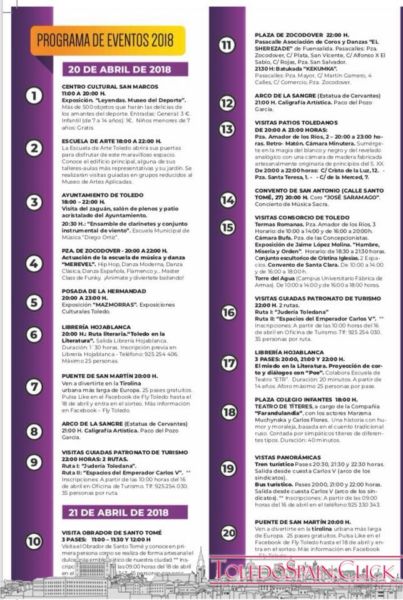 Toledan Nights Program 2018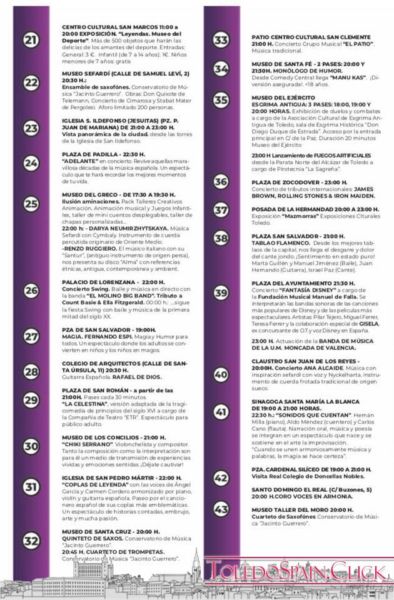 Toledan Nights 2018 Program
Source Toledo City Council
In the meantime, you can consult many other events that take place in Toledo in the cultural agenda.
And if after attending the Toledan nights you want to know where this name comes from, come to a route like the ones they organize in "Toledo Spain" : more information about night guided tours here.
CONSULTA EL PROGRAMA DEL 3 Y 4 DE MAYO: NOCHES TOLEDANAS 2023 HERE.