The "nights from Toledo "are back in a new edition this year dedicated to the 30th anniversary of Toledo as a World Heritage City. They will take place on 21 and 22 April and up to 70 cultural and artistic proposals have been programmed. Here we offer you information about all the events and activities organized for these two days.
The Councillor for Celebrations, María Teresa Puig, presented this Wednesday a new edition of La Noche Toledana, which will take place on 21 and 22 April with two night days of music, art, gastronomy, theatre and, in short, a compendium of the best cultural offer in the 30th Anniversary of Toledo as a World Heritage City, whose programme can be consulted here.
Puig has pointed out that La Noche Toledana "has consolidated itself as one of the great cultural events of spring in our capital" and in this edition it is reinforced with a programme that increases its content with more than fifty activities and more than 40 public and private entities, associations, hotel establishments and institutions that in one way or another make this event possible, which in this call is maintained for two nights after the success of last year.
In 2017 "we dedicate La Noche Toledana to the 30th anniversary of our declaration as a World Heritage City", a way of celebrating "the conservation, rehabilitation and enhancement of our artistic and residential heritage in these three decades".
During this time, some spaces that form part of the programme of events have been recovered, such as the Bufa Chamber of the convent of the Conceptionists, the courtyard of San Clemente, the Caves of Hercules, the Municipal Archive, the museums of El Greco, Victorio Macho, Santa Cruz, Sefardí or the Councils or the Synagogue of Santa María la Blanca.
Read on in the article published by the Town Hall here.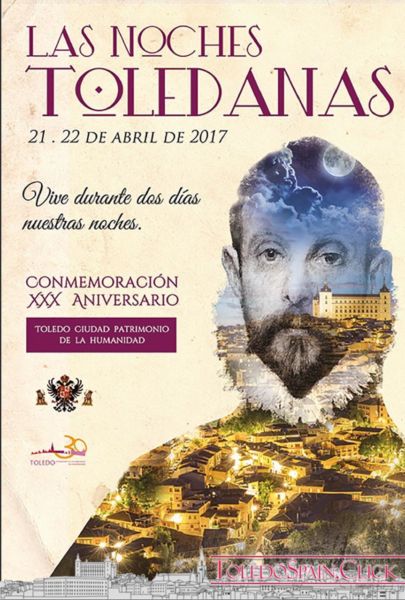 Programme of events "Noches toledanas 2017" :
And if after attending the Toledan nights you want to know where this name comes from, come to a route like the ones they organize in "Toledo Spain" : more information about night guided tours here.