From 10 to 12 May 2023, a Medieval Market returns to Toledo, installed on the Paseo de Merchán (Vega), bringing together more than 80 artisans accompanied by theatre and music. Then we share the whole program of activities.
In addition to the Book Fair that begins this weekend and of which we have already shared the entire program, Toledo and visitors to the city can visit the Medieval Market that will be installed in the Paseo de la Vega from Friday 10 to Sunday 12 May.
It will start on 10 May, Friday, at 18:30 hours with an opening parade with all the theatrical and musical companies that will offer their shows during the weekend.
The City Council explained that the Toledo Medieval Market is one of the activities consolidated in the Toledo City Council's leisure and cultural calendar, as well as highlighting the family nature of the activities that will take place these days, such as traditional games, workshops, exhibitions and the children's area with attractions such as the Ferris wheel, the boat or the flying chairs.
The Councillor for Culture, who has been accompanied by Luis García of 'La Recua Teatro' and Isabel Alamillos, head of the Toledo company 'Marks and Events' that organizes the market, has made an invitation to all Toledo and Toledo, as well as the public of the province and other parts of Spain, to visit the facilities of the Medieval Market of Toledo from 10 to 12 May with more than 80 artisans and a score of musicians, actors and actresses.
As for the performances, in addition to 'La Recua Teatro' there will be more companies and groups of live music, jugglers and other scenic proposals, with the aim that "at any time there are shows for the public to enjoy at any time of the weekend in our medieval market," which will not lack gastronomic points, a grocery and a tavern.
Toledo Medieval Market Program 2023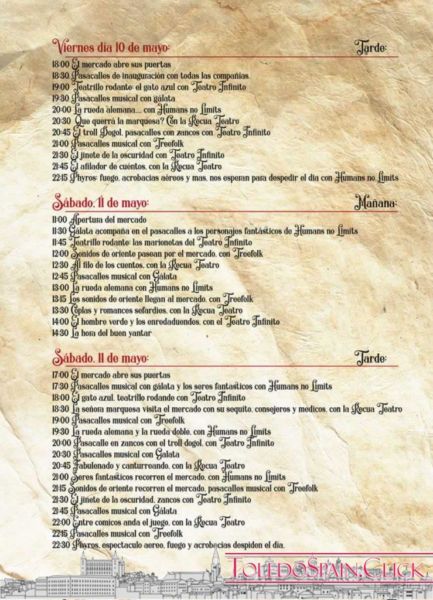 Toledo Medieval Market Programme 2023 – 1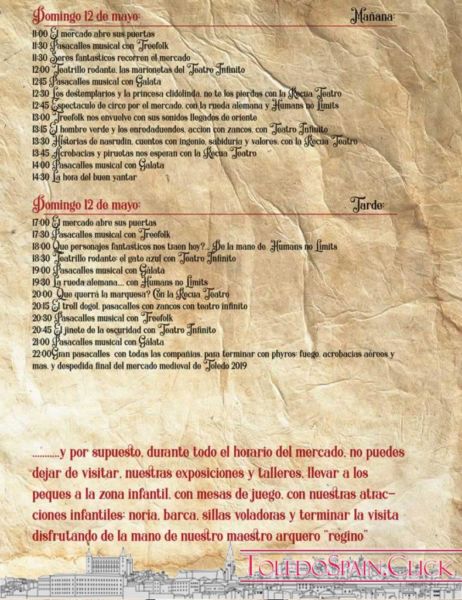 Toledo Medieval Market Programme 2023 – 2
Source Toledo City Council.