One of the most magical and mysterious nights of the year approaches. Toledo, as a mythical city that hides hundreds of legends and traditions does not remain alien to the most terrifying night… If you like Halloween, we tell you what to do during those nights in the "city of fear". Halloween 2017 arrives in Toledo!
Although this year is not a bridge during "Todos los santos" (All Saints) in most of Spain, November 1 is a holiday, so the night of October 31st many look for what to do or visit on one of the most "terrifying" nights on the calendar.
Toledo is no stranger to the special night of the 31st, and during the previous nights, some activities propose another type of "night guided tours" in which to enjoy the most magical and mysterious city.
Walking these nights through the narrow streets of Toledo becomes a realistic experience, much better than attending the (already traditional) passages of terror…
In the company "Toledo Spain" they propose the route spectacle:
INSEPULTE. Chapter 2. Halloween 2017 in Toledo
Every year, Toledo Spain offers a different night-time guided tour, which includes several stops in the streets and squares of the city and some theatrical performances. This year "Insepulto 2" also recovers access to an unusual subterranean. Many people last year were left without a square in these guided tours. Book early…
Only from 27 to 31 October 2017, at various times. YOU CAN BOOK NOW AT THIS LINK: INSEPULTE Chapter 2. (And not too late, the squares are flying)
Show route Halloween 2017: Insepulto chapter 2
Special Children's Route to Halloween in Toledo: The Ghost of the Templar and the Princess
Children's Route Halloween in Toledo 2017
A walk through Toledo with children, a tour through various corners of the city for the youngest (5 to 12 years), inspired by games, activities and stories adapted and related to the medieval Toledo of the Templars, fantasy, princesses, spells and enchantments… We present new route in Halloween 2017 Visit Toledo with your children in a different way!
Click here to book the children's Halloween route in Toledo.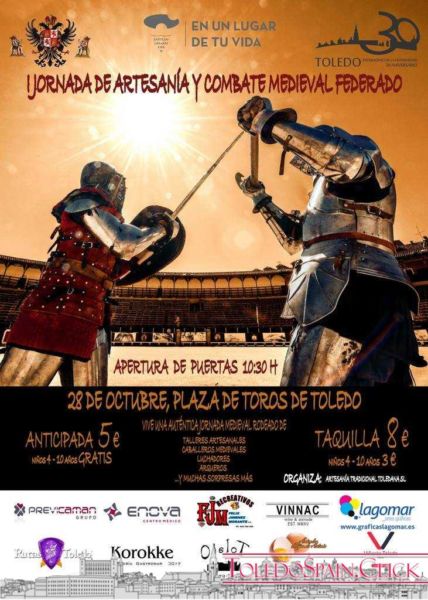 Poster Medieval Combat Toledo
Also that weekend is held in Toledo the First Conference of Crafts and Medieval Combat Federado, in the Plaza de Toros de Toledo, October 28, 2017. More information in this link.
Guided tours in Toledo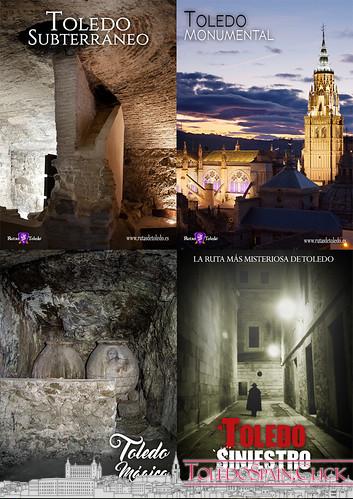 Guided tours in Toledo, with Toledo Spain
If you visit Toledo, don't miss the most famous routes of the city, there are many more that are not just "terror" or mystery, like "Toledo Subterráneo", or the Free Tour Toledo.More information about guided tours and night tours in Toledo here.