The multimedia projection show "Luz Toledo" will be held this year 2017 on 8 and 9 September, from 21:30 hours, on the facades of the Cathedral and City Hall. On this occasion, dedicated to the 30th anniversary of Toledo as a World Heritage City.
Information about Luz Toledo 2018 in this link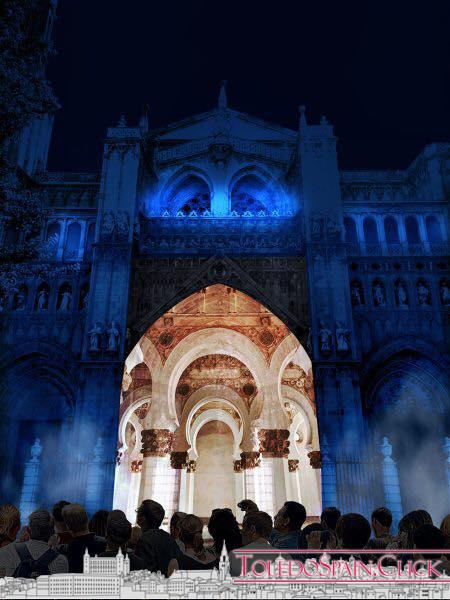 Pass times: "Luz Toledo 2017
September 8 and 9, every half hour from 21:30 to 1:30.
Place: on the facades of the Cathedral and the Town Hall.
Information about Luz Toledo 2018 in this link
According to the City Council, the plot of the show, which combines projections, games, lights, lighting, sound, original musical compositions and even pyrotechnic effects, is the 30th Anniversary of Toledo as a World Heritage City, reviewing the history from the origins of the city. To do this, Hercules will be the guide and conductor of this review of more than 3,000 years.
The spaces chosen will be, once again, the Cathedral façade, where its spiritual vocation and transcendence will be extolled, and the Town Hall, which will take centre stage as a symbol of the civil society that has made possible, shaped and conserved the rich heritage for which Toledo is known worldwide.
The water and the Tagus River will play an important role in the beginning of the show, as explained by its director, who added that the succession of cultures and the main artistic, historical, cultural, mythological and literary milestones of the city will form part of the assembly, which requires the coordination of more than 20 people and the installation of 6 kilometres of cables.
I'm sure you'll also be interested in: "" Luz Toledo Gastronomic Capital" 2016, from 15 to 17 September.
Here we share the videos of some of the most outstanding video-mappings of other years:
Information about Luz Toledo 2018 in this link
And when I've seen Luz Toledo, what do I do?
The show lasts about 20 minutes, and there are a lot of passes. Before or after attending the screening, you will have the option of doing a different guided tour, at night, through the city that will surely surprise you.
In "Toledo Spain" have scheduled many guided tours for those days with various offers on the occasion of the show.
Among the routes there are famous proposals such as "Toledo subterranean" (7 subterranean are visited), "Toledo magic", "Toledo Spain", the unusual "Toledo sinister: houses and enchanted places" or "Templars and legends of mystery", which begins at 23 hours on Saturday and crosses the streets of Toledo at midnight. You can find out more and book these guided tours here.