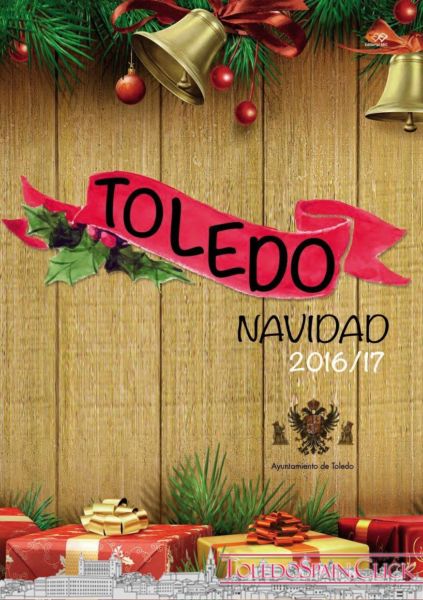 Christmas Programme in Toledo 2016
Toledo City Council has drawn up an extensive programme of activities aimed at children and families, which began with the lighting of the lights and the opening of the activities in the Town Hall square. It will be completed with the opening of the Ice Rink and many other activities.
Video of the Christmas carol recorded by the RTVE Orchestra and Choir in Toledo on December 18, 2016
More than 70 acts make up the program prepared by the Consistory that will culminate next January 5 with the Three Kings Parade.The Ice Rink installed in Sisebuto will be open to the public on 6 December.
The bridge of Alcántara and the bridge of San Martín, with new motives, have been added this year again to the Christmas decoration that also includes as a novelty a new awning of lights in the street Hombre de Palo, giving continuity to this singular adornment, already consolidated as one of the attractions of these holidays. It has also incorporated an arch in the street Commerce also and have a special lighting doors Alfonso VI and Cambrón.
Highlights of Christmas activities in Toledo:
23 December: light and sound show "Gastrofuegos" at the Puerta de Bisagra. It will be screened three times: at 19, 20 and 21 hours.

Ice rink on the promenade of Sisebuto (la Vega) and ice slide. From 2/12 to 8/1/17.

" The heart of Christmas" in the Town Hall Square, with a flea market and a traditional tiovivio, from 2 December to 8 January.

Music on the bridges: Alcántara and San Martín will feature live performances by Lorenzo Ruggiero, Joao Oliveira, Ana Alcaide, Chicky Serrano and Gonzalo Meléndez Jazz Trio, on different dates.

During all the festivals there will be numerous concerts, theatre and cultural activities. We recommend to consult the program slowly.

31 December: in the Plaza de Zocodover farewell party of the year after the "San Silvestre" and fireworks from the Alcázar.
The following is the complete programme of activities (Source: Toledo City Council)

Calle Comercio el 2 de diciembre de 2016
Guided tours of Toledo
And if at this time you want to do something different, discover the routes "Toledo mágico" or "Toledo subterráneo" that Toledo Spain offers in this link, or in this calendar of programmed routes:
Christmas lighting in the Four Streets on 2/12/16
They begin the activities of the Christmas Festivals, for which the City Council has developed a comprehensive program aimed at the family public and where they will not miss the theater, music, children's games and, of course, the illusion of the Three Kings' Parade as the climax to these dates so marked.