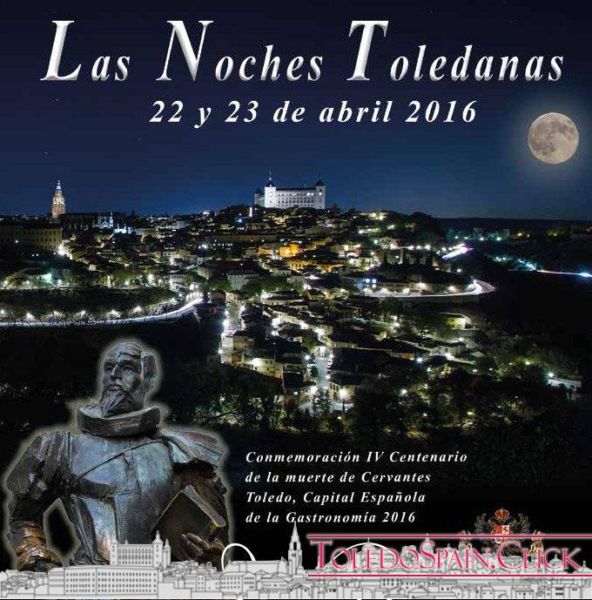 Toledan Nights 2016
Up to 52 cultural activities can be enjoyed in Toledo next weekend, 22 and 23 April 2016, commemorating the IV Centenary of Cervantes' death and the year of Toledo as the Spanish Gastronomy Capital. Find out more about the programme below.
The Deputy Mayor and Councillor for Culture, José María González Cabezas, has been responsible for presenting this great cultural event of spring that "this year has a very special meaning for the city", celebrating the Gastronomic Year and the IV Centenary of the death of Miguel de Cervantes. Both events "justify the celebration, not of one but of two Toledan Nights", as expressed by the vice mayor.
Among the activities, this one has summarized that there will be "theatrical performances, musicals, poetic recitals, tastings, exhibitions and a long etcetera", since they will be "two quite complete nights" with which "we hope that the city is full and is a constant racking of toledanos and tourists".
Among the activities planned in this "extensive program", the mayor has highlighted the installation of a theatrical bus, on Friday 22, in the Transit Gardens with an interactive and original show aimed at all audiences, for which you must register in advance through the telephone of the Tourist Board (925 25 40 30).
That same day, the Toledo Municipal Archive will host from 19 to 00 hours the photographic exhibition 'Los toledanos jugando como niños', photographs of 'Hoy y Ayer' and Engravings of Toledo with 'Gastronomía toledana en los papeles'.
Also, from 19 to 23 hours will be held various activities of wine tasting Méntrida D.O., beer Ébora, Mahou, wine from the D.O. La Mancha and Domus beer with cheeses paired in the Convent of Santa Fe, the Chamber Bufa, Lorenzana Palace, Cuevas de Hércules and the Cultural Center San Marcos.
On Saturday, the deputy mayor highlighted the activity that will host the Plaza de Zocodover (moved to San Marcos) creation of the largest marzipan figure in the world from 11:30 hours; the musical marathon and the batukada 'Kekumka' that will carry out a parade through the Casco; the reading of Don Quixote in front of the statue of Cervantes from 19:30 hours or the celebration of children's workshops and animation in the Transit Gardens from 17 to 19 hours, also in the Museo del Greco.
In addition, among the most outstanding activities, it is possible to include the concert of 'Azuleo' (fusion of flamenco and jazz) that will receive the Museum of the Army from 21 hours and other so many that will receive the gardens of the Alcazar from 21 to 4 a.m.
Click here to access the PDF brochure of "Las Noches Toledanas"
Source Toledo City Council.
And when the activities are over (or before), make a route through the "Toledo suberráneo", visiting 7 subterranean. Click here for more information.