Storytellers, exhibitors, book presentations, concerts… Numerous activities are part of the XII Toledo Book Fair.From 13 to 21 May 2017. Zocodover Square. Next we share all the program of activities.
This year a large number of exhibitors will be able to visit the Toledo Book Fair, including publishers, bookstores, collectives and associations, with the intention of bringing books closer to all the citizens of Toledo and their visitors. On the occasion of these twelve years, since the organization of the fair a great effort has been made so that every day you can enjoy in the square of Zocodover different talks, workshops, signatures, presentations and concerts, essential to enrich the fair itself and culture in one of the public spaces of reference in the city.
The poster chosen as the image of the XII Toledo Book Fair, and whose author is Lucía Martín Vidales Justo, has been the winner of the 4th Toledo Book Fair Poster Competition, which is intended solely for the participation of students of the Toledo School of Art, and which has had a wide participation once again.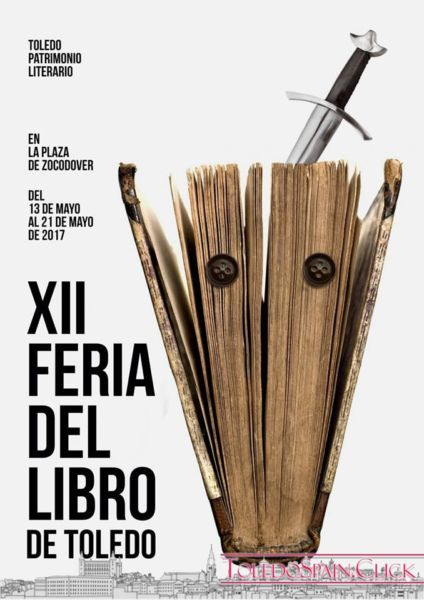 The following is the program of activities 2017 at the Toledo Book Fair:
*All events are held at the activity booth in Zocodover Square, 13-21 May 2017.
SATURDAY 13
12:00 Inauguration. Proclamation by David Luna and poster awards ceremony for the XII Toledo Book Fair 2017.
12:30 Artistic and storytelling workshop: Building a magical Toledo. Organised by: Cra Cri Crea.
18:00 Presentation of the book Sinfonía de un campaner en Toledo, by Noemí García Jiménez Organised by: Editorial Ledoria.
19:00 Inauguration of the photography exhibition Cinco años llenando las calles de poesía de Laura Lenguadegato (Five years filling the streets with poetry by Laura Lenguadegato). Sponsor: Tell me Toledo Guided Tours. Organised by: Voix Vives Toledo. Participants: Alicia Es. Martínez Juan (director Voix Vives) and Laura Lenguadegato (photographer).
20:00 Presentation of the book Poetas en Toledo. Organised by: Editorial Ledoria.
SUNDAY 14
12:00 Storyteller Tim, tam, tom, by Roberto Mezquita with his accordion.
18:00 Eight years planning a revenge, by David Pulido, co-writer of Tarde para la ira, Goya for Best Original Screenplay. They will tell us how the script of the film was created and present the book with the original script by Raúl Arévalo and David Pulido published by the Association of Scriptwriters 70 Teclas and the bookstore Ocho y Medio. Alicia Luna presents, representing the Association of Scriptwriters 70 Teclas, scriptwriter, writer, member of the Academy of Cinema, director of the School of script of Madrid and author together with Iciar Bollaín, among others, of the script of Te doy mis ojos, Award to the Best European Script. At the end of the event David Pulido and Alicia Luna will sign copies of their scripts and publications. Organised by: CIBRA. Festival of Cinema and the Word.
19:00 Presentation of the book In danger of extinction, by Dani Modro. Organised by: Lastura Ediciones.
MONDAY 15
18:00 Presentation of Puñal de claveles, by Carmen de Burgos Colombine, a novel on which Federico García Lorca relied, in part, to write Bodas de sangre. Presentation by Enrique Sánchez Lubián, Teresa Muñoz Pinillos and Alfredo Copeiro. Organised by: Descrito Ediciones.
19:00 Stories of the damascene of Toledo, by Luis Peñalver, author of the books Una historia del damascinado toledano and El estoque de Frascuelo and other stories of the damascene of Toledo. Organised by: Ediciones Covarrubias.
TUESDAY 16
18:00 Enemy Routes, live radio program. Presented by Daniel Díaz Arroyo, with an interview with Tomás González Lezana, author of the book Punk, but what punk? Incomplete guide to punk in Spain.
19:30 Concert by Juan Luzardo El Extra on the poems by Miel de Brujas (Descrito Ediciones, 2016), by Federico de Arce.
WEDNESDAY 17
18:30 Presentation of the poetry book Un ideal incompleto, by Javier Manzano Fijó. The author will be accompanied by Eva Jiménez, Federico de Arce and the editor. Organised by: Descrito Ediciones.
I'm sure you're also interested in: Curiosities of the Alcázar de Toledo
19:30 Tertulia Toledo Literary Heritage. Organised by: Scientific and Literary Athenaeum of Toledo and its province.
THURSDAY 18
18:00 Presentation of the books La vertical del tango and La deriva de los hemisferios, by Emma Fondevilla. Organized: Lastura Ediciones and Editorial Juglar.
18:45 Concert by the percussion ensemble of the Toledo Municipal School of Music.
19:30 Presentation of the book El falso llano, by Oscar Aguado. Organized by: Editorial Gato Encerrado.
FRIDAY 19
18:00 Storytelling and puppets, by Toñi León and Graciela Pellegrin. Organised by: The Gentile Red Dragon.
19:00 Presentation of the book La voz del sentimiento, by Guadalupe Nieto. Organized by: Editorial Celya
SATURDAY 20
12:30 Children's accountants Poems without problems by Jesús G. Fernández. Organised by: Editorial Juglar.
13:00 Signature of copies of Yo siempre creyía que los diplomáticos eran unos mamones, by Inocencio Arias, diplomat.
18:00 Cuentaller Miguel Hernandez. Cuentos y papiroflexia by Javier Caboblanco.
19:30 Voix Vives. Five years of Mediterranean poetry.
SUNDAY 21
12:00 Children's Concert by Chumi Chuma and signing of the book-CD Baila sin parar (at the Toledo Art Circle).
13:00 Poetic Vermouth. Recital by several authors from Editorial Juglar and Lastura Ediciones (a vermouth will be offered to the audience).
BOOK SIGNATURES
David Luna: Tennen Labyrinth. Saturday, May 13, at 12:30.
Ana María Chiquito: Between canvases… your smile. Saturday, May 13, at 19:00.
Gonzalo S. Rey: The call. Saturday, May 13, 18:00
Enrique Galindo: Sweep the road. Sunday, May 14, 12:00.
Welcome Maquedano: The long journey of a blue triangle. Sunday, May 14, at 19:00.
Juan Sánchez: Commendation of the public library. Thursday, May 18, at 18:00.
Ángel Luis Moraga: Secret herbs from the other side of the sea, the look of the jackal and Sálamo. Saturday, 20 May, 18:00.
Inocencio Arias: I always thought diplomats were suckers. Saturday, May 20, 13:00.
Information: Toledo Book Fair