Enjoy Toledo and taste our gastronomy. From Thursday, November 8, 2018 until next December 2 you can participate in the nineteenth edition of the Days of Tapas in Toledo.
This initiative will take place from Thursday to Sunday in 62 establishments in the city, where they will serve their tapas prepared for the occasion. Are you in the mood? In parallel in Toledo will be held, from November 8 to December 1, the V edition of cocktails by Toledo.
A total of 14 establishments will serve their preparations at the price of 5 euros.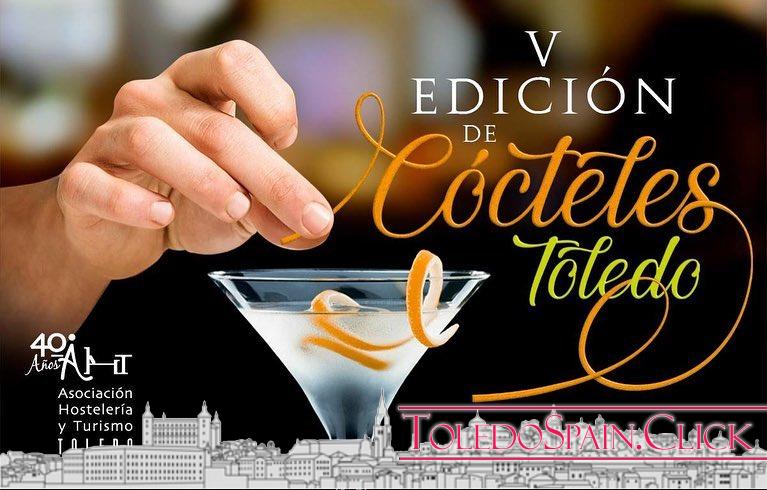 V Edition of Toledo Cocktail
These are the participating tapas:
ALFILERITOS 24 : Mini fajita of field partridge with tender buds and passion fruit.
PALENCIA DE LARA ROASTER : Cover with Tradition". Marriage in my style.
TXOKO ROASTER : Crispy rib "Chimichurri" and false autumn risotto.
BIBULA, COFFEE BAR: Fried makhani chicken nems.
BOTANIC BAR LEGENDARIO: Pickled quail toast with pumpkin jam and forest aromas.
BU TERRAZA: Bombón de foie y almendra". Bonbon of foie and caramelized almond with green apple compote.
CASAS DE LAS BULAS: Loin of trout with fished garlic. Traditional stew of the fishermen of Toledo.
CLANDESTINE OF THE TENDILLAS: Cohombro de carne de añojo. Cucumber stuffed with bull's tail, piparra gel, fried onion and kimchee mayonnaise.
CATHEDRAL COLLECTION: Iberian hamburger, mustard and ginger.
COMES, RESTAURANTE PIZZERÍA: Focaccia filled with pulled pork and putanesca sauce.
STAIN SPOON: Quail torrijas with ajiperuano and fresh lettuce.
EL 10 DE SANTO TOMÉ: Ravioli with blood sausage, apple and walnuts based on tomato sauce gratin with bechamel and cheese.
EL CORRALITO: Picadillo de chorizo con morcilla de matanza de Castilla-La Mancha.
E L FORO DE TOLEDO: Manchego cheese pâté with confit red peppers and deer chorizo.
JUAN's CORNER: Empanadilla stuffed with cod, with cream of manchego pot.
ENTRECALLES CERVECERIA ARTESANA: Hamburger "Mamba Negra". Beef with boletus in reduction of black beer and goat cheese.
LA ABADIA: Crispy, creamy potato egg and boletus.
LA CAVE, RESTAURANT: "Bao-Burguer deer". Deer burger on bao bread with autumnal sauce.
LA FABRICA DE HARINAS, RESTAURANT: "Lamb stew 2.0". Confit lamb, garlic-almondra praline and ñoras sauce.
LA FLOR: "Octopus al Puff". Octopus macerated in violet potato foam and tulbaghia.
LA MONA, BAR: Veal brownie, creamy potato with crispy bacon and demi glace sauce topping.
LA PEPA: Lasagna with roasted red cabbage, almonds and apple.
LA SIERRA, BAR RESTAURANTE: Icicle of spicy deer with pumpkin sticks and raspberry oil.
LA TARASCA, RESTAURANT: "Regañao con la Presa". Carpaccio of presa "of Iberian race" on scolding with garlic ali-oli tender, red curry and crispy cheese.
LAB COCKTAIL BAR: Thai curry chicken wrap with feta cheese and pomegranate.
LIZARRAN: "Sloppy Joe…". Pork sirloin, pork secret, roasted chicken strips, roasted red pepper jam, fresh tomato and mini mollete bread.
s 2018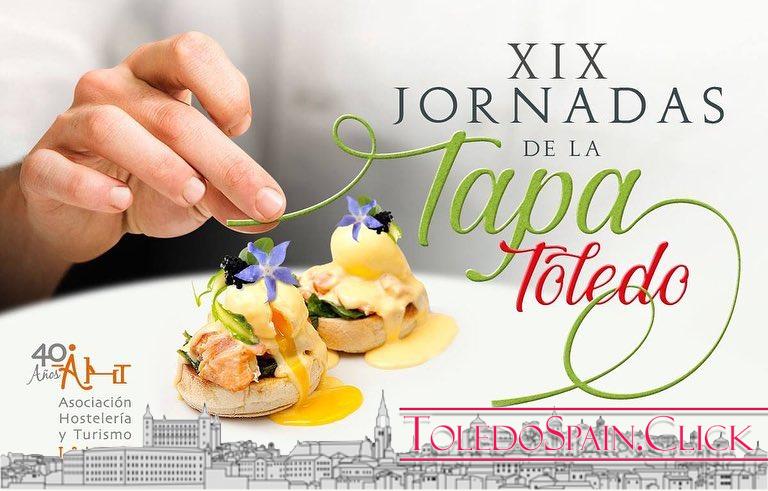 XIX Toledo Tapa Days 2018
MAJAZUL, RESTAURANT: Crispy partridge marinated with "Majazul" saffron cheese.
MALQUERIDA DE LA TRINIDAD: Salmorejo de remolacha. Salmorejo of smoked herring beet with fresh mozzarella.
MARGOT: Bao bread stuffed with orza loin, padrón peppers and mojo-cheese sauce.
MESÓN SOLAREJO, RESTAURANT: S aquito de pollo confitado con salsa de frutos rojos.
MUSAKAYA: "Bao chanchito". Pork, hoisin sauce and sweet chili.
BAD CHILD: "We're leaving in a trio". Trio of croquettes of picantón en su pepitoria, boletus and truffle and cold cuts.
ODELOT -CARBON: Grilled artichoke with foie and red fruits.
EL GRECO PAINTER, HOTEL: Millefeuille of foie gras with apple.
PLAZA MAYOR, RESTAURANT: Deer stew. Deer meat in pepper sauce.
BAR BEER & RESTAURANT CORNER: Iberian secret with baked potato tartar and vegetables.
TABERNA EL BOTERO : Korean tomato croquette with cod carpaccio and red curry butter.
TABERNITA, TAPAS BAR: Taco of old clothes and pipes.
OUR COVER: "Antoñito". Minitosta deer mincemeat with mushrooms on a base of artisan beer jam.
TERRAZA DEL MIRADERO: "Sushi Miradero". Spinach roll with goat cheese, walnuts and quince.
TORNERÍAS, CERVECERÍA RESTAURANTE: Poultry chicken hams with seasonal vegetables and snowed almonds.
TREE, BREWERY: Crispy corn dumpling stuffed with carcamusas and sweet potato with guacamole sauce.
ABRASADOR, RESTAURANTE: "Tex-Mex" pumps with gaucho sauce and drops of cauliflower with Manchego aroma.
ALMA TOLEDANA, RESTAURANTE (HOTEL ABACERÍA): Crunchy Timbal of partridge and foie. Crumbled stewed partridge with foie micuit and caramelized onion covered with filo pastry and napada with a reduction of the sauce of the stew.
18th ANGLE, PINKS AND COVERS: Volován with pork cheeks and crispy cheese.
CASA MARTINA, RESTAURANT: Sanjacobo deer loin, edam cheese and acorn ham with green chive ali oli.
CASA TABORDO, RESTAURANT: Ravioli of cochinita pibil, with apple cream and Mahou beer air.
CATAVINO: Octopus ravioli on a creamy "parmentier" of truffled potato.
CIGARRAL EL BOSQUE, HOTEL : Croquetón del mar al pil pil con puntillas a la andaluza sobre pan de pueblo.
THE OLIVER OVEN: Hunting puff pastry stuffed with quince sauce.
EL PEÑON: Mini tartar of red tuna, truffle, dehydrated tomato and basil.
FINCA EL GRECO, RESTAURANTE (CAMPING EL GRECO): Lasagna of chipirón. Fine crunchy beer pasta filled with chipirón del Cantábrico.
LA BASTIDA, HOTEL RESTAURANTE: Eat the Donut! Brave potato donuts, Mahou cream with lime aroma and Coca-Cola air.
LA MASÍA, RESTAURANTE : Ravioli of bull's tail, with light bechamel sauce and crunchy Manchego cheese.
LA ROMANA. HOTEL BEATRIZ TOLEDO AUDITORIUM & SPA : Corn crispy with ear minutejos, cod tripe and chickpea foam.
LA VILLA: Lacquered wild boar loin on plum and orange compote.
NEXO BY MARTINA: "Tar-Tar Sea and Mountain". National shrimp and Galician beef sirloin.
NEW PICA-PAN: "Sedeño y Martín". Fusion mini burgers duet.
MEETING POINT OR: Cabbage leaf stuffed with mixed minced meat and yogurt cream.
R ECONQUISTA 14: "Reconquista 14" lathe, touch of asadillo and egg at low temperature.
AIR SALE: Custard of partridge foie gras with caramel foam and caramelized sesame.
ZAL GORDA, RESTAURANT: Apple lasagna and cheese with crispy black pudding.
These are the participating cocktails:
ALFILERITOS 24: "Da Cantareira". CachaÇa 51, Marie Brizard mandarin liqueur, Marie Brizard passion fruit syrup, fresh lemon juice, tomato and basil jam barspoon, ice pilé. See cocktail
BU TERRACE: "Strawberry Caipiroska". Strawberries, natural lime, Marie Brizard cane sugar and Absolut vodka. See cocktail
TENDILLAS CLANDESTINE: "Gin Breeze". Geneva, aperol, blueberries, lime, clear and Peychaud's. See cocktail
CARAVANTES: "Tropical Fish". Martin Miller, Creme de Cassis, lime, lemon, egg white, strawberry syrup, cream, soda. See cocktail
KATANGA: "Aperol-Spritz". Aperol, Prosecco and a touch of mineral water. See cocktail
LAB COCKTAIL BAR: "Cocktail Maceracha". CachaÇa macerated in spices, Marie Brizard's Lichis liqueur, Marie Brizard's ginger essence, white vermouth, egg white and nutmeg. See cocktail
MALQUERIDA DE LA TRINIDAD: "Gingeriña". CachaÇa, lime, gum, granny apples, ginger and curaÇao. See cocktail
PACA MOTHER: "White Russian homage to the Great Lebowsky. Interpretation by Álvaro Cuartero of the most famous cocktail of the Coen's cinema". Absolut vodka, coffee liqueur, evaporated milk, ice and a touch of mint. See cocktail
MALO CHILD: "Caribbean Connection". Ginger, aged rums, passion fruit puree, lime juice and Marie Brizar banana syrup. See cocktail
PICARO: "Pícaro Gin-Fizz". Geneva, lemon juice, Parfait Amour, sugar syrup, liquid cream, Royal Bliss Yuzu. See cocktail
SITHON's : "Porto-Tonic". Porto Calem white and Dry, Angostura, tonic and orange slice. See cocktail
TABERNA EL BOTERO : "Serrallés Legacy". Don Q Gold Rum, Fireball, orange juice, lime juice, mandarin syrup, orange Angostura and egg white. See cocktail
TABERNITA : "Autumn Cane". Bourbon, Triple Seco Mare Brizard, Marie Brizard passion fruit syrup, Falernum, egg white and tonic. See cocktail
TERRAZA DE MIRADERO : "Apple Jack". Jack Daniel, Marie Brizard Manzanita Green Apple liqueur, mint, cinnamon powder. See cocktail
Fuentes : Provincial Association of Hotels and Tourism of Toledo. Tourism Toledo (City Hall)
And when you're done with tapas, take a nightly guided tour of Toledo.