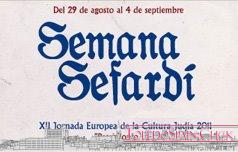 From 29 August to 4 September Toledo commemorates the 12th European Day of Jewish Culture with numerous activities for all audiences. Follow them with us.
PROGRAM OF ACTIVITIES
Projection of the documentary: "Jewish Toledo" Real Fundación de Toledo (Pza. Victorio Macho) Daily passes from Monday 29 August to 3 September: 1pm and 6pm. Sunday at 1 p.m. Free access.
Conference "The Jewish Quarter of Toledo" Mr. Jean Passini. Research Director CNRS. September 1 at 19.30 at the Royal Foundation. Free access.
"The Garden of Memory" at the Sephardic Museum. A sensory space that transports the visitor during the visit to past times through the sounds of the Jewish quarter of Toledo. This garden will form part of the museum's permanent offer from 30 August.
Family pottery workshop "Jewish symbolism applied to Toledan pottery" . As a family, enjoy this fun activity on the morning of Saturday 3 September. Passes: 11, 12 and 13. Book in advance. Free access.
Culturel exchange: "Visit the cities of the roads of Sepharad: Toledo-Jaén 2011" Scheduled excursion from Toledo to Jaen. September 3rd. Access by prior reservation.
Concert of Sephardic Music by the group "La Reverencia" . September 3 at 8 pm in the Sephardic Museum. Free access.
Guided tours of the Jewish Quarter of Toledo Stroll through the adarves, alleys and corners that once walked the Sephardic Jews of Toledo. 3 September at 12.30, 17.30 and 22 hours. September 4 at 12:17 p.m. Book in advance. Free access.
Guided tours of the "House of the Jew" September 3 and 4 at different times. Book in advance. Free access. toledospain.info
Toledo Sephardic Train September 3 and 4 at different times. Book in advance. Free access.
Open day at Samuel Ha-Levi or Transit Synagogue. September 3 and 4 from 10 a.m. to 6 p.m. Free access.
Bus of the Three Cultures September 4 at 12, 16 and 17 hours. Book in advance. Free access.
GASTRONOMY
From August 29 to September 4 lives the XII EDITION OF THE JEWISH WEEK in Toledo tasting the Sephardic gastronomy…. we leave you the menus, tapas and dishes offered by 11 establishments in our city, which will undoubtedly delight everyone:
TAPAS
HOTEL ALFONSO VI. Meatballs of lamb and raisins to honey and mustard. 2 euros.
RESTAURANTE Com.es. Pipirrana with bonito. 3 euros.
CIGARETTE THE FOREST. Sephardic lamb glazed with honey and sesame, accompanied by almodrote of aubergines. Price, 3 euros.
CARAVAN CIGARETTE. Lamb and chard bonbons on acid cream of tomato and crunchy eggplant. 1 euro.
BREWERY THE LITTLE HOUSE. Stuffed lamb on aubergine moutabal. 4 euros.
PLATES
THE CARDINAL's ESTATE. Sephardic aubergines (13,25 euros). Almond and parsley salad (15,10 euros). Leg of lamb with nuts and cane honey (19,80 euros).
ALFILERITOS 24. Eggplant stuffed with pot meat (13 euros).
LOCUM RESTAURANT. Cream of cucumber and mint with taboulé and marinated sardines (12 euros). Kosher Lamehadrim wine, maximum restriction, valid for rabbis (14 euros).
MENU
SALONS SANCHO IV. Appetizer: Bean gazpacho. Starter: Cod salad and orange segments. Fish: Hake in plum sauce. Meat: Lamb brochette with apricots, breaded in honey, sesame and nuts. Dessert: Slices of parida. Price, 18 euros.
PARTRIDGE COLLECTION RESTAURANT. Eggplant salad. Fennel salmon. Artisan marzipan. Price, 18 euros.
PARADOR DE TOLEDO. Three Cultures Menu. Mouthfuls of the Arab legacy: Asparagus bearings, salamander, fried aubergines with cane honey. Flavors of Christianity: Lobo on bread. Sephardic aromas: Lamb with turmas and burekas. The three cultures of the sweet: Fijuelas, myrrhus of pears, almond milk soup with cherry sorbet. Price, 29,50.
I'm sure you're also interested: The Green Cross. Legend of Toledo
Information
Toledo City Council, Municipal Tourist Board. Reservations at Tourist Offices (Pza del Ayuntamiento, Zocodover, Estación AVE)
http://www.toledo-turismo.com
http://www.toledosefarad.org
Sephardic Week Toledo 2011