Luis Rodríguez Bausá is an incredible connoisseur of "lo toledano". On this occasion, well accompanied by Javier Mateo, they present a new work on the city: "La vuelta a Toledo en 80 Leyendas "
On Wednesday, November 28, 2007, this new work was presented that resumes a classic: the Toledan Legends, but this time showing those little known and that are not usually narrated in the tourist routes that many nights accompany the solitary streets of Toledo.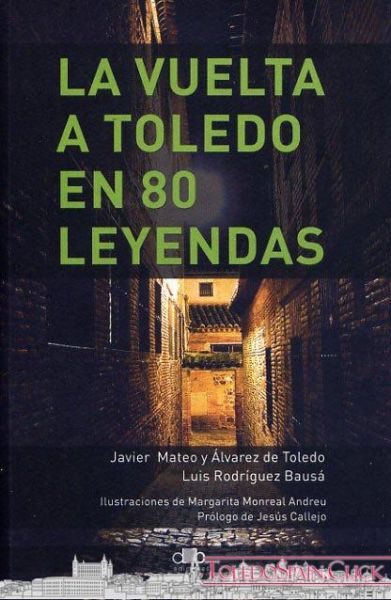 Luis and Javier present us with an indispensable book about Toledo, we would dare to confirm it as almost "a classic about Toledo", even when we are newborn; about the city that is not narrated in history books, and that will surely fascinate the unconditional of these subjects as did the "Unusual Toledo, an essay on the magical, hidden and mysterious" published some years ago by Luis, and now exhausted.
It presents, in addition to the best known legends, some that remained in the memory of the Toledanos, narrated from mouth to mouth, but that some time ago were not recovered in written form. According to the authors themselves, they have not tried to elaborate an extensive "anthology" of Toledan Legends, as other authors have already done, but rather to offer these fabulous pieces of popular wisdom and guide them to Education, having as the scenario of this educational event the largest that they could wish for: the city of Toledo itself.
I'm sure you'll also be interested in: Toledo Book Fair 2015
Thus, from a pedagogical point of view, three questions accompany each Legend, correctly resolved:
Where to read it?
Where to count it?
Want to know more?
In the first one they extend the large bibliography indicated at the end of the book, fixing places where to read the legend (although they indicate that the version of the book is created by the authors themselves); in the second one they locate the situation of the legend, because (almost) all of them can be located in the interior of the city, and they offer a clue of the most suitable place to tell it, because good connoisseurs are of this fact. And in the third, they add information to inspire the search and discovery of all history that underlies the legend.
A book, in addition to highly recommended for lovers of "Toledano", also for those pedagogues, teachers and professors who wish to show history from another point of view, pleasant and interesting for new generations.
From this article dedicated to your fabulous work, we wish to thank the mention of Leyendasdetoledo.com in the pages of "La vuelta a Toledo…". An unquestionable honor that we thank Luis and Javier. Being sure that you will pass by here sometime, we say thank you for letting us be part of your pages. See you in the streets of Toledo.
Where to buy this book (Toledo):
– White Leaf. Calle Martín Gamero, 6 45001 – TOLEDO Phone: 925 254 406
– Gómez Menor. Avda Reconquista, 5 – TOLEDO. Tel: 925.21.63.43
* Update 15/2/08: we are informed that the book is now available again in Toledan bookstores and Internet in its 3rd Edition. Congratulations again to the authors for the great success of their work.
2017 Update: the book has been out of print for years and can only be obtained through collectors or old bookshops.
I'm sure you'll also be interested: Thursday, May 5, "Toledo Legends of Terror and Fear" conference.