Luis Rodríguez Bausá and Javier Mateo Álvarez de Toledo presented last December 9 a new publication: "Guía Mágica de Toledo y su Provincia", edited by Ediciones Covarrubias. The presentation was given by IkerJimenez (Millennium 3 and FourthMillennium) andJesúsCallejo (The Rose of Winds).
" It is not right to stay only a quarter of an hour next to a building that is seven hundred years old," wrote Saramago. Taking advantage of these wise words, Rodríguez Bausá and Mateo Álvarez de Toledo write in 312 pages "an unequal guide, a compilation of events, so that the traveller can stop in a multitude of towns that only sounded like transit and never like a stop and go. In this work we talk about caves, sacred mountains, magic wells, raining images, enchanted fountains or thunderous miracles… But, above all, we talk about towns, cities and regions "that if, with order and aftertaste to heterodox dissidence".
More of the same? It is not. We believe that over time, as has happened with some other work of these two "unique characters" such as Luis and Javier (remember their "Toledo insólito" ) this work will become a classic of Toledo, as are their authors, authentic "best sellers" on how much work they write or in each publication that participate…
Once again, as we did with "La vuelta a Toledo en 80 leyendas" we must thank the authors for including references to this website, especially in the magnificent section that has been considered as a "guide for beginners in research into the magical world of Toledo", which shows a huge collection of resources and plots, some already forgotten, not only to begin, but to deepen the study of "the other Toledo", which is not seen. Structured into 16 chapters, the book constitutes the most complete guide ever written on the world of magic in the province of Toledo:
Introduction: "Notes for Part III of the description of the Imperial Civility of Toledo"
Toledo in the key of magic and mystery.
Witches, sorceresses and other matters before the Inquisition of Toledo.
Trip to the center of Toledo. Caves, crypts and mummies.
Magical legends of Toledo and its province.
Alchemy toledana.
The Toledo Mountains. A place full of surprises.
The Table of Ocaña.
La Mancha is a place of sorcery, seers, pagan dances and other trifles.
La Campana de Oropesa, a journey to the past.
The Jara, amulets, stelae, necropolis and boars.
La Sagra.
The Sierra of San Vicente. The prehistoric trace.
Region of Torrijos.
Provincial magical miscellany.
Beginner's guide: bibliographic, archival and documentary notes to get you started in the search for the magical.
The publication, includes a "Guide to begin research on the magical world" is located in the collection "Arcanum", Covarrubias Editions.
The presentation was made by IkerJimenez (Millennium 3 and FourthMillennium) and JesusCallejo (The Rose of Winds) and was held last Thursday, December 9 at 7pm at the Hilton Hotel in Toledo.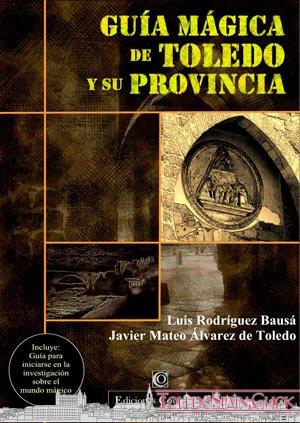 As Jesus Callejo states in the prologue of this guide, the "bausa effect" strikes again.
MAGIC GUIDE TO TOLEDO AND ITS PROVINCE
Luis Rodríguez Bausá
Javier Mateo Álvarez de Toledo
Year 2010
I.S.B.N.: 978-84-937444-8-9
17 x 24 – 320 pages
Price: 25,00 €