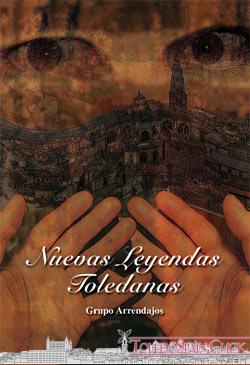 The literary group Arrendajos presented its first work titled " New Toledan Legends" with the collaboration of the publishing house Ledoria in the Chapterhouse of Toledo City Council.
" There was an immemorial time when Toledo was an
land of shepherds. Men lived in peace in the
riverbanks and the echo of the waves was confused with the
the aroma of their orchards before getting lost in the holy mountain.
There was neither yours nor mine and even the wind, by
make a stop at the custom, restrained the instincts and
he was caressing.
From that lost age of imagination are
these new Toledo legends, of heroes who lost
their freedom and won the penalty in a furtive gaze."
This is the introduction of this new publication inspired by the Toledan Legends. Not by the usual ones, those known and published in numerous publications, but by those created in the imagination of the components of the "Grupo Literario Arrendajos", sponsored by Editorial Ledoria.
On April 28, 2008 was presented the book containing these new texts that come to value "the soul and spirit" of the city, as stated by the Mayor, Emiliano Garcia Page.
Ten writers have given life to ten legends never before written and that are located chronologically from the time of the Visigothic king Recaredo to our days:
Antonio Contreras Lerin
Consolation Gonzalez Rico
Faustino Lara Ibáñez
Gil Antonio Ballesteros Alcalá
Manuel Palencia Gómez
Mª Teresa González
Valentín Navarro Martínez
Teresa Martín Gómez
Jesús Gallardo Ordoño
Enrique Galindo
I'm sure you're also interested: 145 years after the death of Gustavo Adolfo Bécquer
The book is available in bookstores in the city of Toledo.
Image: Grupo Literario Arrendajos (Toledo City Council)
More information:
– <font color=#38B0DE>-=www.editorial-ledoria.com=- Proudly Presents
– Press Release Toledo City Council.