Toledo again serves as the setting for a novel. José Luis Feito, a Goya award-winning audiovisual producer, after two years of work, has published his first work inspired by the city of the Tagus.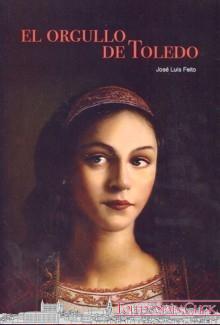 The Pride of Toledo, front page
The novel has been created as a cinematographic project, according to its author in interviews given during the presentation of the work in Toledo. "The Pride of Toledo" brings us back to the city of the fifties, with some attractive ingredients, and uncommon in the works recently published about Toledo: phalangists and local chiefs, strange crimes and a family saga.
Synopsis of the book: Year 1954, Rosa is a young exile from the Civil War who has lived in Paris since childhood. She receives a letter from a relative inviting her to return to Toledo to celebrate her grandfather's 90th birthday. Her return will become an absolute failure. Determined to return to Paris, she will have a surprising encounter with a man, a former municipal archivist, who, after recognising her, dies murdered in strange circumstances. Later he will receive a document from a friend of the archivist, a detailed study of his family, the García-Petriz, with more than seven hundred years of glorious history in Toledo. From that moment, he will begin to suffer threats to return to exile from men who work for his grandfather, an old phalangist, faithful heir to the family tradition. At the same time as the events take place, the narration is interspersed with the archivist's chronicle, a detailed study of the García-Petriz. Through him, Rosa will begin to understand her own history.
I'm sure you'll also be interested in: "El Efebo", by Joaquín Pérez-Mínguez
Author: José Luis Feito is an experienced audiovisual producer. He worked for Filmax for five years, where he won the Goya award. Currently he continues his professional work from his own production company Xperimenta Planet. El orgullo de Toledo is his first novel, for which he has invested two years of work.