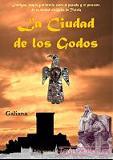 To the editorial news of these days about the city is added the work of the author from Toledo Galiana: "The City of the Gods", which is presented today Tuesday 13 November in the Alcázar of Toledo.
Toledo became the capital of the Visigothic kingdom in 567, during the reign of Atanagildo.
Julián, a local journalist, has the proof to prove that the archaeological remains found in the so-called Vega Baja of the city belong to the ancient Visigothic city. His research will try to prove that Toledo is still the capital of the Visigothic kingdom today. We are in time to know a secret kept for centuries, by the only people who were there and can tell it.
The book is presented on Tuesday 13 November at 7.30 pm in the Assembly Hall of the Regional Library located in the Alcazar of Toledo.
The presentation will be given by Justo López Roco, responsible, among others, for the digital publication "Toledo Mágico".
" La ciudad de los Godos" is a novel that deals with current issues in the city of Toledo, mainly around the archaeological remains of the Vega Baja, along with other more universal and timeless issues such as the struggle for power and war between the forces of good and evil. Fantastic reality and fiction are mixed in this entertaining novel.
The author from Toledo GALIANA, began to write short stories while still a child, but it was in 1994 when she encouraged herself to teach her work and went with one of her stories to the radio program "La ardilla en la buhardilla" (The Squirrel in the Attic) with whom she would initiate a relationship that would lead her to write these stories weekly and some incursion into radio theater. In the year 2002 she decides to compile all her stories and they arise: "Los pecados Ocultos del Rey" (The King's Hidden Sins), published in April 2007. His incursions in the world of theatre have been: "Burning of a Witch", "Covenant with the Devil", "Christmas Greeting", "Trial of a vampire" and "The Cuple". In September 2006 Toledo Mágico commissioned him to write a short story about the situation of the archeological remains of the Vega Baja of Toledo and "La Ciudad visigoda perdida" was born, on which his novel "La ciudad de los Godos" is based.
Tab:
Author: Galiana
Year: 2007
I.S.B.N.: 978-84-935338-6-1
15 x 23 – 230 pages
Price: 16 €