Here are some activities and events to enjoy in the city of Toledo from 3 to 8 December. Concerts, fantastic cinema, book fair, exhibitions, Christmas activities… Toledo does not stop this bridge.
WARNING: this information is from 2010. If you want updated information, visit our main page
MAKE A ROUTE BY TOLEDO DURING THE BRIDGE. VISIT toledospain.click
Exhibition "From Outside"
From Friday, November 12 at 19:30 – December 16 at 19:30
Place: Toledo School of Art, Toledo, Spain
Teresa Diaz Chicote
From 12:00 to 14:00 and from 17:30 to 19:30
Toledo Antique and Occasion Book Fair
Advertising
From 26 November to 12 December. Place: Plaza de Zocodover.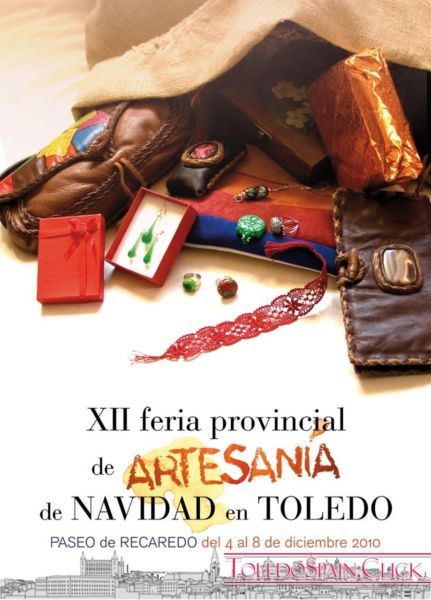 XII Provincial Christmas Crafts Fair 2010
From 3 to 8 December. Place: Paseo de Recaredo.
Solidarity Rake organized by the Diocesan Delegation of Manos Unidas in Toledo for Christmas.
The rake, which will be installed in the halls of the Archbishopric (Calle Trinidad, 1), will be open from 3 to 12 December and will be open from 11.00 a.m. to 2.00 p.m. and from 4.00 p.m. to 8.30 p.m..
Cultural programming activities Toledo City Council:
03/12/2010
– Friday –
17:00 h
Inauguration of the Bethlehem installed in the Rural Box
09/12/2010
– Thursday –
22:00 h
Concert "EL PESCAO"
LOCATION: Caja Rural Auditorium – C/ Coronel Baeza
PRICE: Advance sale 16 Euros, in Pinocchio and Aboriginal Breweries. At the box office 20 Euros
COLLABORA: Organised by: Cerram Collaborated by: Toledo City Council.
XIV Muestra de Cine Independiente y Fantástico – More information
December 3. 20:00h XIV Independent and Fantastic Film Festival: Inauguration of the Festival by Anthony Blake. Shocase Show "Don't come alone". Screening of the Short Film "Maquetas" and the Film "Monsters"
PLACE: CCM Cultural Centre (C/ Talavera)
PRICE: Entrance: Free and gratuitous until complete capacity
ORGANIZATION: Imagine Collective
More activities for the bridge in Toledo City Council's cultural agenda
Christmas Activities Program – Toledo
Do you know of any activity in Toledo for this bridge? Share it in the comments.