The summer in Toledo offers ideal nights to learn the most important secrets of the city. If you also want to know its most outstanding monuments and let yourself be guided by the interior of the Cathedral, here are five routes that we recommend for this summer in the Imperial City.
We offer you below five routes that will help you to know a little better the secrets and the enormous history that accumulate the old Toledan stones. This city is not known in a morning, or an afternoon, coming to the race of Madrid and fleeing again to the few hours. If you do this you will miss the best part of this city: its nights. Walk through dark sheds, listen to old legends in corners with magic, visit millenary subways… All this is possible in this city.
Toledo Shed
Route of the "Magic Toledo"
The night route par excellence in Toledo. The best initiation into the magic and secrets of the city. Anecdotes and curiosities that end with a visit to a subway.An essentially nocturnal route through forgotten alleys, adarves, under sheds and walls that enclose the centuries of mysteries that Toledo has accumulated. We will invite you to visit enchanted houses and their inhabitants, and the history of the souls that inhabited them. We will follow in the footsteps of magicians, sorceresses and witches who practiced their arts here. And we will get to know the subways and the old stories they contain. More information: Toledo Mágico]
Toledo Siniestro: houses and enchanted places
Toledo sinister: houses and enchanted places
The most mysterious route in the entire city. Extraordinary narrations, some of them current, others not so much. It's not history, it's not legend… Here we don't talk about the monumental wonders or the characteristics of the great masterpieces that Toledo contains. It is not a secret that when night falls over Toledo certain beings who do not usually walk its streets emerge from the shadows to accompany us in some houses, corners… In Toledo are legion souls that have inhabited the city since time immemorial and many of them still remain there. Join us on this different route through spaces related to apparitions, enchantments and many other mysteries that are difficult to explain.Not recommended for children under 14. Route with a theatrical stop. More information: Toledo Siniestro]
Interior of Toledo Cathedral.
Photo: inside Toledo Cathedral, Toledospain
3. Discover Monumental Toledo
If you are looking to know the most historical and patrimonial part of the city here is your route. A two-and-a-half hour tour through the history of Toledo, the city that houses much of Spain's history in its walls. This route visits the interior of the Cathedral, the Burial of the Lord of Orgaz (El Greco), among many other corners. It is carried out essentially in the mornings, although if you are part of a group or company, it can also be done in the afternoon or evening (consult what to visit then, as most of the monuments close after 6 p.m.)
.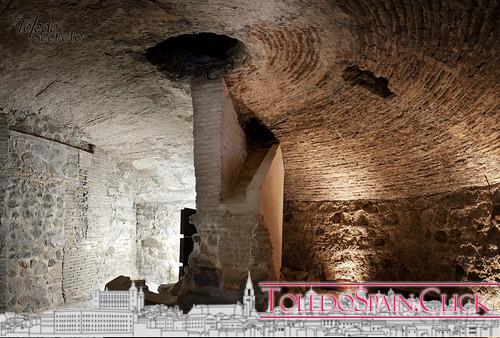 Pozo del Salvador in Toledo by Toledospain
Photo: Pozo del Salvador, Toledospain
4. Free Tour Toledo
A guided tour in which we will get to know the "essentials" of Toledo, but also contributing our touches as the best narrators of legends, anecdotes and curiosities. We are specialists in Toledo!
Discover Toledo on an essential tour, in this new guided walking tour, in which you will discover (externally) some of the main monuments and most beautiful corners in a fun and innovative way. During the guided tour you will learn about history, culture, anecdotes and curiosities, in an overview of what you can see and do in your stay in Toledo.
Your budget in this case is not a problem, because in the FREE TOUR TOLEDO you choose the price you put on this unforgettable experience in Toledo!
Free Tour Toledo – purple umbrella
5. Templars and Mystery Legends
Toledo cannot be understood without knowing some of its many legends. Every corner preserves a legend, every courtyard, every monument, almost every stone could tell a legend. In the company "Toledospain.click Guides" they tell you some of the most mysterious legends of the city accompanied by stories about the Order of the Templars in Toledo. More information: Templars and Mystery Legends]
There's more…
But this is not all… There are many more routes, some very special, such as "El Greco Insólito", "Templarios en Toledo", "Toledo erotica", "Inquisición toledana", "Los Brujos de Toledo", which are made occasionally… Get to know the whole catalogue at this link.
Some people make up to 7 routes in several days
Discounts for doing various routes, such as the already famous "bootblack", up to 6 hours in three wonderful routes through the city, for a good knowledge of some of its secrets. What are you waiting for?
Information provided by "Toledospain.click Guides"
I'm sure you'll also be interested: What night tour or guided tour do I do in Toledo?