" Greco Light 2014. On Friday 11, Saturday 12, Friday 18 and Saturday 19 July 2014 the city of Toledo will once again experience a festival of light and sound that aims to fuse architecture, music, painting, signage and video effects together with figurative abstractions present in the imagery in the work of the Cretan artist (from 22.30 to 1 a.m.)
.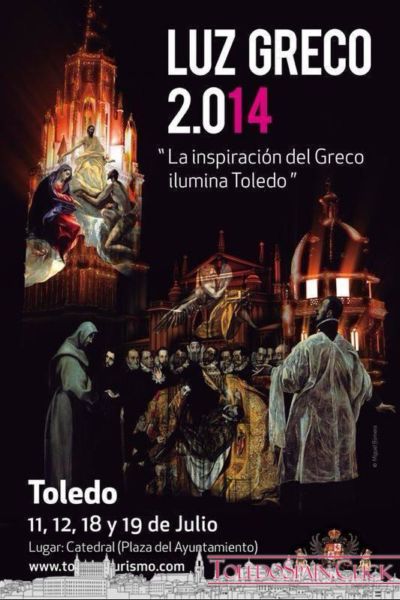 * Toledo City Council has confirmed the installation of a "Medieval Market" in Paseo de Merchán (or de la Vega) during "Luz Greco 2014".
Find out more:
Original information: Turismo Toledo
Photos:
– Multimedia compilation Lux Greco 2010 (link)
– Preview of the 2009 show by LumixFun on Flickr.com
More about the painter: El Greco secreto
I'm sure you'll also be interested in: "" Luz Toledo" 2017, 8 and 9 September.
Sara Hidalgo Villamor sends us two articles about Lux Greco published in press with a magnificent photo of her property: elmundo.es and estrelladigital.es
You can see some pictures of Lux Greco 2011 here: http://flic.kr/s/aHsjvr1QqC
And if you want to do a nocturnal route through Toledo after seeing the show, do not hesitate, go to toledospain.click