If you have a few days off during the December holiday, the Constitution or the Immaculate Conception and you travel to Toledo we offer you some recommendations for accommodation, what to do and visit in the City of Three Cultures. Toledo is much more than great monuments and museums. Sleep in this city and unveil its secrets, on the December Bridge in Toledo.
From 6 to 9 December 2018 many of us will have a few days off. If you plan to travel to Toledo, to make tourism or simply to renew a previous visit (Toledo always surprises) we recommend below some new ideas that break with the concept of "the typical" in Toledo.
First things first:
Find a hotel in Toledo
You can consult the following offers or click here and look for other dates with good prices in Hotels, hostels and tourist apartments in Toledo.
Advertising
Get to Toledo and… Park in Toledo!
Arriving in Toledo is very easy, there are buses, the fast AVE train that brings us from Madrid Atocha in 20 minutes, or by car, we have already spoken before… What is not so easy is parking in a very old city like Toledo.
Therefore, to avoid a thousand and one laps with the car around the center of Toledo, there are applications such as ElParking in which more than 900,000 drivers already rely. This app, in addition to paying for the regulated area of Toledo without having to go to the parking meter at any time as any management can be done only with your mobile, also serves to find and book with the mobile a parking space in downtown Toledo very easily and at the best price.
Sure you're also interested: Seven routes or guided tours not to be missed in Toledo (Updated)
So if you're thinking about what to do this December holiday, here are some proposals…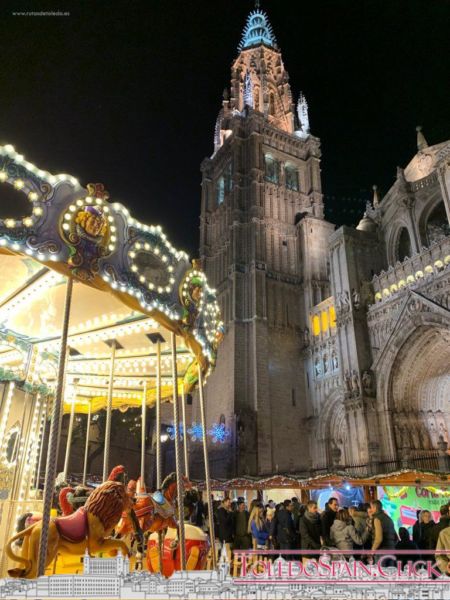 In Toledo Spain give away the Toledo Tourist Guide in digital format to book a route
In this article we will also update with activities and different proposals for the December 2018 holiday. Come back soon.
The most basic guide to Toledo, some interesting links from our website, all updated to 2018:
What to see in Toledo. Brief essential guide..
50 essential things to do in Toledo.
Toledo tourism. Practical information on…