Do you know that in Toledo Cathedral more than a hundred relics are preserved? These include fragments of the Lignum Crucis, the thorns of the crown of Christ, the milk of the Virgin Mary, the purple tunic of Christ, the towel Jesus girded and washed the feet of the apostles on Good Friday, the sheet with which he wrapped his body in the tomb and the cloths of his childhood…
The worship and veneration of relics has had an enormous importance in Christianity since its origins. Vatican Council II states that "According to tradition, the Church worships the saints and worships their images and authentic relics.
Usually kept in containers called reliquaries, richly ornamented with gold, silver and precious stones, they were kept in churches, cathedrals and monasteries, in altars and chapels so that the faithful could venerate and contemplate the remains of martyrs or saints, with human remains (bones, skin, hair, blood…) or objects associated with the life of the saint or martyr being habitual.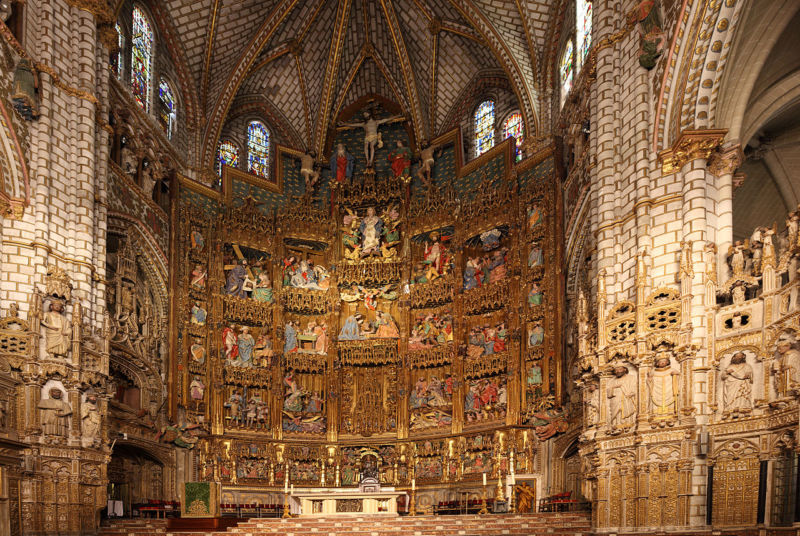 Arm of Saint Lucia. Toledo Cathedral
During the Middle Ages there was an authentic passion to "collect" this type of relics. The powerful, usually Kings or Emperors, did not hesitate as Philip II did in requisitioning, buying or collecting as many as possible.
It was also a symbol of wealth and attraction for the faithful that a cathedral or church had in its chapels a large number of these relics, as it was customary to go to "ask" or pray to the relic of the saint or martyr on his day or commemoration.
Ark of Santa Leocadia, Toledo CathedralSometimes this type of human remains were associated with almost magical properties and many people did not hesitate to make a pilgrimage of hundreds of kilometers to observe the most famous. Many used the little or enough money they had in marketing these relics.

More than one hundred relics in Toledo Cathedral

Toledo Cathedral, as one of the richest temples in Christianity, could not remain oblivious to this trend and try to attract more faithful and give even greater importance to its already remarkable walls.

Since its foundation, the Cathedral has accumulated dozens of relics, but it was in 1591 on the initiative of Cardinal Quiroga when the project to create a "Sacrarium" in the northern area of the Cathedral arose, among them the ochavo, located just behind the Chapel of the Tabernacle.

The construction was completed in 1653, in the northwest zone, and the relics were solemnly transferred on January 19, 1673.

The construction itself has symbolic traces: of an octagonal plant, hence its name, remembering that the number 8 is the symbol of eternity.

More than 100 pieces and reliquaries are distributed in seven arcosolios, each of them compartmentalized in several showcases.
Seven is the symbol of creation, and it took God seven days to create the world, according to Christian tradition.
Among the most important pieces conserved in the Ochavo, the Arca del Santísimo Sacramento; the Lignum Crucis (used in the ritual of appointment of the Archbishop of Toledo); the reliquary of Santa Espina; the Arca de San Eugenio; the Arca de Santa Leocadia; the Cross of Cardinal Mendoza (said to have accompanied the Catholic Monarchs in the seizure of the city of Granada in 1492); the Cross of the Archduke of Austria; the Bust of Saint John the Baptist; the arm of Saint Lucia or the reliquary altarpiece of Saint Louis of France.

Reliquary of Saint Louis of France. Toledo Cathedral

One of the greatest contributions of these relics was made by King St. Louis of France:

" Through these buildings it was intended to evoke in the faithful the holy place of Jerusalem. In the study of the relics of the primeval cathedral, the arrivals with their foundation around 1086 stand out, and mainly those donated by King Saint Louis of France around 1248, among which are fragments of the Lignum Crucis, of the thorns of the crown of Christ, milk from the Virgin Mary, from the purple tunic of Christ, from the towel that Jesus girded and washed the feet of the apostles on Good Friday, from the sheet with which he wrapped his body in the tomb and from the cloths of his childhood.

In addition to the above, one of the most important pieces is the reliquary of the monarch St. Louis of France, which housed the relics of St. Christopher, St. Stephen, St. Laurentius, St. Alexius, St. Damien, St. Eugene, St. Dionysus, St. Cosme, St. Felix, veil and dress of the Virgin Mary, St. Louis, St. Anne, St. John the Baptist, St. Leonard, St. Boniface, dress and tree in which St. Francis, St. Bartholomew, St. Thomas Archbishop Canturiense, St. Barbara, Samson the Confessor and St. Marina prayed, and could have acted as the Ark of the Covenant of the primate temple, similar to the Ark of the Covenant of the temple of Solomon.

All these pieces were surely donated by the French king perhaps along with another great treasure of the cathedral, the Moralized Bible in 3 volumes, or St. Louis. It is not clear why the Frenchman made this donation, but in addition to the act of gift that would imply the strengthening of the bonds of friendship, in the possession of the Castilian monarchs of some precious relics of the life of Christ it would be necessary to remember Blanca de Castilla, mother of Saint Louis, or even the marriage agreements agreed between Saint Louis and Alfonso X for members of their families" (Source: Miquel Juan, Matilde).
Reliquary of Santa Espina, Toledo Cathedral

Many of these relics, kept in their reliquaries, from numerous churches in Toledo were stolen during the French invasion. Some returned, others were lost forever…

The ochavo is not accessible to tourists. No visit with the tourist entrance to the Cathedral. It is one of the most hidden and protected areas of the Cathedral, not only because of the riches it conserves, but also because of the spiritual, religious and sacred character of the objects that these reliquaries have preserved since ancient times.

The only way to visit the reliquaries that are in the eighth is through the website of the Cathedral of Toledo: "The eighth, reliquary of the Cathedral" (Photos: SICP Cathedral of Toledo)

Reliquary bust of San Sebastián. Toledo Cathedral

More information about relics:

" Relics: Faith and Business in the Middle Ages."
Catholics and relics.
Relic trafficking in the Middle Ages.
El ochavo, reliquary of Toledo Cathedral.
The relics of the Real Monasterio del Escorial

Pictures of the eighth taken by Laura Valeriano Martinez, 2011 Ark of Saint Eugene. Eighty photos taken by Laura Valeriano Martinez, 2011 Eighty photos taken by Laura Valeriano Martinez, 2011<figure