The coexistence of "three cultures" in Toledo was not as easy as some try to make us see… As in other occasions we have narrated in these same pages, the legends are the reflection of the tensions between the towns that populated the city and not always in a negative way, as we observe in " El Alfaquí" of Toledo.
The night of time covers with its mantle the chronicles that historians maintain about Toledo. Time tries to hide everything, or to change it, or to interpret it in the way that men, century after century, transmit it.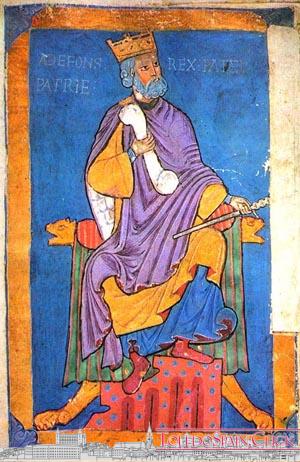 Alfonso VI, statue at the entrance to Toledo
It is tradition in Toledo that around 1086, when Alfonso VI penetrated the Toledo walls, after the siege of the city and subsequent agreement with the Muslim rulers who dominated these lands, allowed their worship to remain in the city, with the respect signed by both of them to the "mosque aljama", previously a Christian enclosure erected by the Visigoths and modified by the Muslim invaders as their most important sacred enclosure in Toledo and future Toledo cathedral.
One night when the monarch was outside the city, legend has it that Queen Constance and Archbishop Bernardo, ignoring the sovereign will, violated the Arab temple, leading numerous supporters to tear down the doors of the temple and place a bell in its minaret, as well as an altar, thus giving as sacred for Christian worship the temple that until then served as Toledo's main mosque.
I'm sure you're also interested: Ten Toledan Love Legends
Faced with the mockery of the royal power, Alfonso VI had him in great grievance, condemning to death numerous participants in the troop, although their anger was calmed, according to chronicles, by the Muslims themselves, whose head was one of the main leaders, the alphaquí Abu-Walid, who asked for royal pardon for all the assailants and accepted the Christian consecration of the mosque.