On February 25, 2008 a blog was born that shared "forgotten" photographs of Toledo. The idea was original and important, because it recovered images that otherwise would only be stored in dark archives, far from everyone. We decided to create a permanent link to this great blog, called "Toledo Olvidado", on our website. Today, October 31, 2014, we publish together to announce a remarkable discovery, which interests both of us by the content: an unpublished photograph of the mummies of the Church of San Román and a forgotten legend, as well as the spooky description of these mummies made in the press of 1912.
We have chosen these dates of the feast of "All Saints" to make this publication as a whole because of the gloomy nature of the image and the retrieval of the texts.
Click here to access the publication in "Toledo Olvidado".
We do not want to begin to detail the legend without first thanking Eduardo Sánchez Butragueño, author of "Toledo Olvidado" for his kindness in sharing this image (unpublished to date with this quality) with us and again, as so many times we have done, thank the enormous work that Eduardo does on his blog, widely recognized as we all know Toledo.
Church of San Román in Toledo by Toledospain
The Church of San Román, now the Museum of Visigoth Councils and Culture, was built in the Mudejar style in the 13th century on top of an old Visigoth basilica and probably a Roman building. Under a crypt of the main altar are preserved a good number of mummies, as Luis R. Bausá states in his "Unusual Toledo" :
" Many Toledans were able to see before the construction of the present Museum of Councils, when the mummies would be buried again, this time forever, we trust, in a crypt beneath the high altar. Of these, Francisco Beltrán tells us that they are buried behind the altar on the right, and in a number between 30 and 40, the head of one standing out among all of them, whose expression was so hard that it "made me afraid".
The legend
First, we share the legend "Las Momias de San Román", published in the magazine "Blanco y Negro" (ABC) on 20/9/1902 by Rafael Torromé (Click on the images to enlarge):
This legend offers an explanation of the presence of mummies in San Román:
" By day, the French, who in hatred burned, retaliation sought, and in the village was fed with brutal carnage. Inhuman also put their hands, without looking at holy duties, on unhappy women and on helpless old people. San Román today encloses in an attic the mummified remains of those unfortunate people who are asking for land. The furor of vengeance and the gesture of agony are still reached in his mummy and cold flesh to be discovered.
More interesting is the description that Rodrigo Amador de los Ríos, distinguished archaeologist and son of the historian José Amador de los Ríos also made in January 1912 in "La España Moderna". Below we reproduce one of the most significant paragraphs in a terrifying visit that this archaeologist made to the crypt of San Román where the mummies were kept:
" The spectacle I contemplated is not for said, for there are no words to paint it. Countless number of human remains, crammed and confused into a horrible heap, report to the narrowest extreme, as if thrown there on palettes, without respect and without charity, mixed sexes, ages, and surely the conditions, as the earthy limbs are mixed and scrambled, offer as a whole the appearance of a compact grey and dusty mass, on which the blue light of the evening twilight slipped indifferently.In the middle of that mass, producing in it frightening reliefs, skulls appear, many of them not yet entirely fleshed out, arms loose, hands open and in skeleton, dry and rigid legs, hollow torsos of ashen ribs, remains of fabrics without definable color, all with the same tonality, as sad as fatiguing. It is a moving and horrible ensemble, from which the special smell, and which is not confused with any other, of transformed organic matter, much more penetrating and repulsive than the condensed smell in the rooms of the Anthropological and Anatomical Museums, and whose emanations harshly wound the sense of smell. On my right, on the floor, resting on the enclosing wall of the church, there are various bodies lying on their sides, rather more whole than those of the pile; and on their side, standing, resting also on the wall, as apolilladas images, useless and waste of old altarpiece, other bodies of infants, of different ages and sexes, with shreds still of their clothes.

The first, as adults, horror put no limit on the whole mood. They all find themselves in violent attitudes, like being thrown to the ground by force for them insurmountable, or unexpected accident, tremendous and without defense; with the contracted factions, and clear expression in them of invincible panic, of incomparable anguish, of sterile impotent anger, of desperation and madness.
Next we offer a link to the complete testimony published in "La España Moderna", imagining how would be the visit made by this remarkable character to such a Dantesque crypt (read all the pages). In this article don Rodrigo also offers an interesting hypothesis of the origin of the mummies:
And here the spooky photograph recovered by Toledo Forgotten: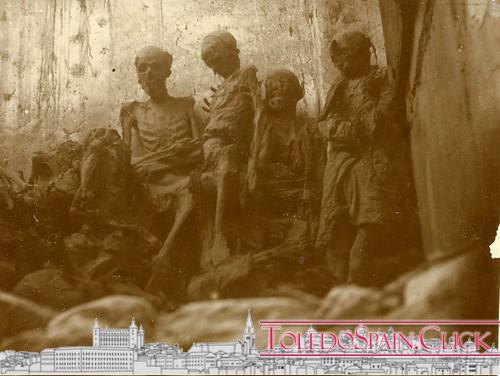 Mummies of San Román in 1905. Photograph by Rodríguez © Real Academia de Bellas Artes y Ciencias Históricas de Toledo
Mummies of San Román in 1905 (enlarge). Photograph by Rodríguez © Real Academia de Bellas Artes y Ciencias Históricas de Toledo recovered by the blog "Toledo Olvidado"
Once again we deeply appreciate the work done by Eduardo in his blog "Toledo Olvidado" (there details the origin of the photograph), and for sharing this interesting discovery (one more) with ToledoSpain.click.
I'm sure you'll also be interested: The mummies of the Church of San Andrés in Toledo