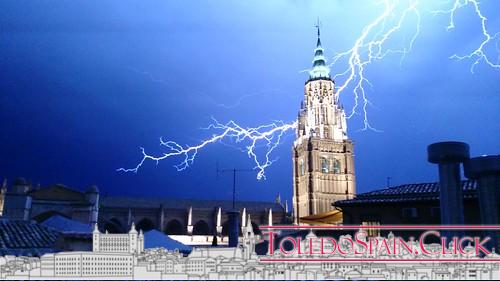 Storm over Toledo on the afternoon of 11 October 2014, by Nano Lázaro
Crouched by the intensity of the enormous storm that at that moment covers Toledo, I take out my mobile phone, I take a few photographs and I am lucky enough to capture the magical moment, perfect, a ray tears the sky just behind the tower of the Cathedral, magnificently illuminated… Immediately I share it on Facebook… And my friends begin to share it. I go to bed. The next morning I wake up and see that thousands, maybe hundreds of thousands of people have shared my photo on social networks, which didn't have a signature… (Keep reading and know the story and the author of this great photograph)
It is probably a first-person account of the sequence necessary for a large photo to become "famous" on social networks. In this case it happened to a Toledan, Nano Lázaro, that on the evening of 11/10/14, being on his terrace watching a huge storm over Toledo, he was able to capture the snapshot that accompanies this text with his Sony Xperia Z1 mobile. The incredible speed of the social networks has made that in a few hours it crosses (and right now it does) the world. Thousands of toledanos here and outside Spain put it as a profile picture or share it on Facebook, Twitter or Whassap. The press shares it, without knowing very well where it comes from, in their digital editions, and surely the photo will be part of these media for a long time. (From here we want to recognize the work of "eldigitalcastillalamancha.es", which in a few minutes has recognized the authorship of the photo)
The only drawback is that it is not signed. (Now the one that accompanies this text does have a signature) Neither in the photo nor in the messages that share it thousands of times in social networks. And therefore, it doesn't have an author? but someone has made it… And we don't have to be indifferent. Everyone has the right to have their work recognized, even when an initial mistake was made in sharing their photo without a signature (although at first it was shared in a closed and personal Facebook profile, but this we already know is of little use)
At this time we know that the author is Nano Lázaro, a young Toledan who was probably doing what we described at the beginning and shared the photo immediately. It came to us through a tweet the same night of the 11th, and we immediately began to ask who it was, and if there were more. We shared the photo on Facebook of Hidden and Secret Toledo, followed by thousands of Toledans, looking for the author, and within hours he was identified.
While thousands of people continue to share it, we reflect on how difficult it is to recognize the author of something that is uploaded to the Net when it has not been signed or does not bear a watermark. In our case, we also have experience in some photos, even with people who erase or remove the signature by mutilating the photo, and then share it. Or the dozens of legends that we share here with everyone, which are copied again and again without mentioning the source of them, as we ask in the "legal notice" of our website. We have always fought in these pages and social networks against these practices, because sometimes it takes a lot of effort (and also money) to get certain snapshots.
Thank you, Nano, for such an incredible photo.
I'm sure you'll also be interested: Photographs of Toledo by Jesús M. García