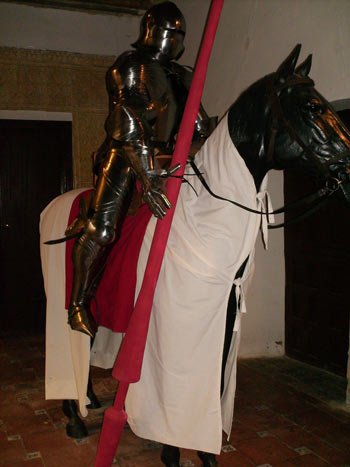 The way of life of these characters can also be seen in the exhibition through mills to grind grain, tents or kitchen utensils.
The reason for this exhibition is very attractive, both for children and for adults, as it is a very playful and didactic subject at the same time. They have offers for groups.
Advertising
The exhibition is located in the Amusco Palace, very close to the Cathedral, and a very interesting site in itself. The Palace dates from the 16th century, and in fact some remains remain in one of the rooms, as the rest of the decoration is neo-Mudejar in style, dating back to the 19th century, possibly from some restoration that took place at that time, although the inner courtyard has columns and capitals reused from earlier periods from other palaces.
I'm sure you'll also be interested in: "Mercado Cervantino" from 15 to 17 April in Toledo.
Toledo City Council collaborates with the company Didarte to exhibit the exhibition "Medieval Knights. Los señores de la guerra" which can be visited in the Amusco Palace from 14 March to 14 September.
Toledo City Council, through the Department of Employment, Tourism and Economic Promotion, made available to Didarte the location of the exhibition and the assembly of it.
The exhibition will remain open until 14 September 2008.
Click here (right click and "save as…" ) to download the PDF brochure of the exhibition.
Visiting hours:
Weekdays: 10 to 14 h and 16 to 21 h
Saturdays, Sundays and public holidays: 10 am to 9.30 pm
Location: Palacio de Amusco – Plaza de San Justo, 1 (Entrance through C/ Tripería, next to the Cathedral)
Toledo (Toledo)
Tel: 605 070 373 / 91 320 77 54
Fax: 91320 77 54
E-Mail: info@didarte.es